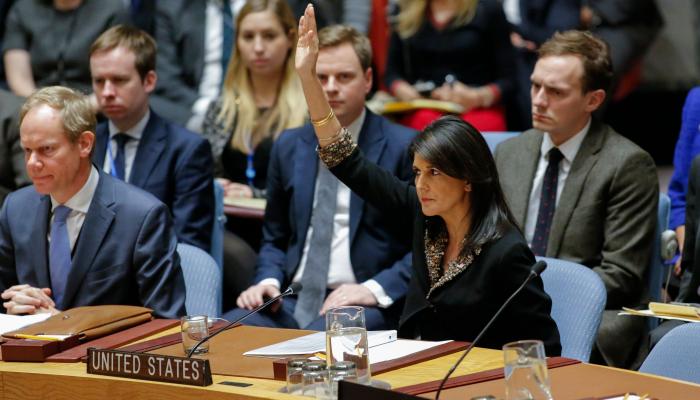 Haley to Veto UN Resolution Denouncing Violence Against Palestinians
YemenExtra
SH.A.
US Ambassador to the United Nations Nikki Haley said Thursday that her country would "veto" Kuwaiti-drafted resolution seeking protections for Palestinians in Gaza and the occupied West Bank.
Haley claimed that the text presented by Kuwait on behalf of the Arab states was based on "a grossly one-sided approach that is morally bankrupt and would only serve to undermine ongoing efforts toward peace between the Israelis and Palestinians."
UN Security Council looks set to vote Friday after the Thursday session was delayed.
Kuwait submitted the draft resolution two weeks ago, and initially called for a mission to secure international protection for the Palestinians after the killing of about 60 of them by Zionist forces on the Gaza Strip.
The final draft resolution submitted by Kuwait lambasts excessive use of force by the Zionist occupation against Gazain protesters and escalation of violence on the border with the occupied territories.
Haley had told the Security Council on Wednesday that her country would oppose proposals to protect the Palestinians.
In return, the United States has drafted a resolution that falsifies the facts and blames Hamas and the defenseless Palestinian people for the recent violence in Gaza.
It was not clear whether there would be a Security Council vote on the US draft resolution, which could fail to get enough support.
Thousands of Palestinians have been martyred and wounded by the Zionist occupation forces since the start of Great March of Return protests at the Gaza border on March 30, while no Zionist was killed.
al-masirah.net