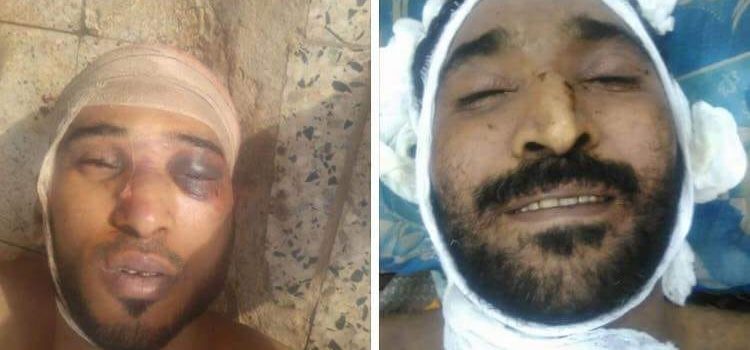 Two citizens were killed under torture in UAE prison inside a camp run by Tariq Afash in Aden
YemenExtra
Y.A
According to informed sources, "Remi Ali Abad Al-Shorji" and , "Mohammed Al-Hajji", under torture under the direct supervision of the Director of Security of Aden, the pro-UAE paid fighter leader "Shalal Shaya." lost their lives.



According to the sources, "Shalal Shaya", directly supervised the torture of hundreds of political detainees inside a prison run by the UAE forces inside the Wadi Ahmed camp, supervised by Tariq Afash.



The sources pointed out that dozens of detainees have been transferred to hospitals in Aden because of the deterioration of their health conditions as a result of the daily exposure of the most severe and the worst forms of torture by the elements of the so-called "security belt", supported by the UAE forces.



It should be noted that the forces of the UAE held hundreds of people from the southern provinces inside secret prisons in Aden, and practice the most heinous and cruelty of physical torture, according to international reports and reports.
A new UN report has blasted Saudi Arabia for torturing those arrested on "terror-related" charges and persecuting those exercising free speech, saying reports of the kingdom's so-called liberalization efforts are "completely wide of the mark."
British lawyer Ben Emmerson, the UN's special rapporteur on anti-terrorism, concluded the report on Wednesday following a five-day visit to Saudi Arabia.
The UN report said there were "well documented reports of the use of torture and ill-treatment by law enforcement officials against individuals accused of having committed acts of terrorism and the use of coerced confessions as sole or decisive evidence in their conviction."
Aden city, which was occupied by UK but now under the control of UAE, and the rest of the southern cities witnessed an insecurity situation that increased the assassinations of imams of mosques and security and military leaderships
The province of Aden witnesses a security fiasco that escalated with killings, looting issues , in addition to others that never happened before.
The UAE took control of Aden under the pretext of confronting the so –called "Houthis" Yemeni army and supported the establishment and formation of armed militias there. 
Tariq Afash is the nephew of the late Ali Abdullah Saleh, the despot who ruled as president of Yemen from 1990 until 2011, and was killed in December 2017 following his defection to the side of the Saudi and Emirati forces.
Vowing to avenge his uncle and continue his path of defection, Afash offered his services to the UAE forces and promised to defeat the National Salvation Government in Aden "within ten days". However, after a series of heavy defeats in Taiz province, the paid fighters leader was allegadly summoned to the Emirates in order to answer for his failures.
Sources also indicate that the Afash paid fighters were armed with state of the art modern weaponry by their Emirati masters, but in many cases left behind their weapons on the battlefield or even sold them to traders after deserting.