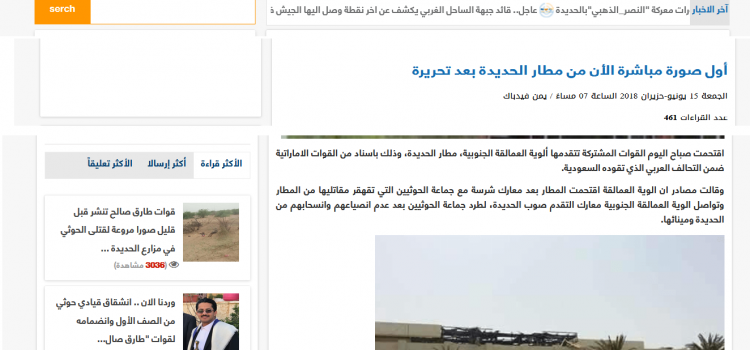 A Scandal in pictures \ Here's how the US-Saudi-led coalition's websites seize the Hodeidah International Airport?
YemenExtra



Y.A
News sites funded by the forces of the US-Saudi-led coalition , as usual ,fell in a scandalous moral scandal, after claiming the fall of Hodeidah International Airport at the hands of the paid fighters during the battles on Friday in  #

the West Coast Front.



The news of the fall of Hodeidah International Airport has been published by the coalition's members and paid fighters , based on an old photograph of the airport, dated to 26/10/2016, after being subjected to a series of air raids by the coalition's jets.



Yemeni Press website published the picture adopted by the paid fighters' media to use it for the purpose of misleading public opinion, as usual in search of electronic victories unrelated to the fact that their enemy seeks to block it despite its manifestation.



In order to convey the truth , Yemeni Press reveals the truth of the old image that these sites claimed was a direct image taken today of Hodeidah International Airport.