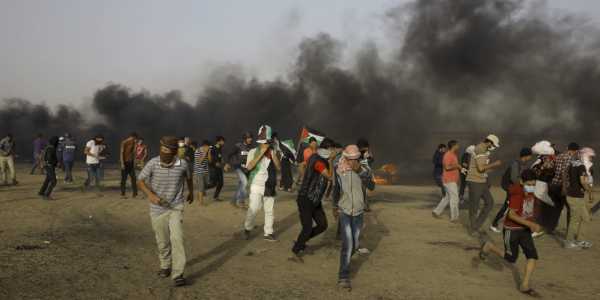 Zionist Soliders Raided a Palestinian Refugee Camp in the Occupied West Bank
YemenExtra
SH.A.
The Zionist soliders raided a Palestinian refugee camp in the occupied West Bank , AFP journalists said, in an apparent hunt for suspects in the killing of a soldier.
Dozens of Zionist troops entered the Amari Refugee Camp in Ramallah in the early hours of Monday, closing off all the entrances, AFP journalists said.
At least 13 Palestinians were lightly or moderately injured during the raid as clashes broke out, the Palestinian Health Ministry said, with soldiers firing tear gas and bullets.
Residents said a number of Palestinians were arrested, though there was no immediate confirmation or statement from the army.
As well as a Palestinian journalist was wounded last night by the Zionist Occupation Forces, ZOF, in the east of Gaza, while ZOF launched a campaign of arrests and raids in the West Bank.
Palestine Today quoted local sources as saying that the photojournalist Ali Jadallah of the Turkish Anatolian agency in Gaza was shot by enemy forces while covering the Great March of Return in the Farewell of Wounded Friday in the east of Gaza City.
The Zionist soldiers stormed on Saturday several towns and villages in the cities of the occupied West Bank.