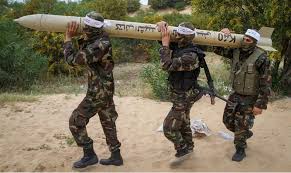 Palestinian Factions Announce Targeteing Israeli Military Posts
YemenExtra
SH.A.
The Palestinian factions announced on Wednesday responsibility of targeting military posts of the Israeli entity in the Gaza borders with a number of missiles after raids launched by Zionists targeting civilian car in the central of Gaza Strip.
The statement pointed out that "the bombardment and shelling of the enemy will stop it from imposing a controlling status on the Palestinian people. Palestinian factions will remain loyal to the people and their sacrifices, and ready to respond immediately to any aggression or encroachment on the people."
The shelling of the Israeli entity posts by the resistance comes as a response to the raids launched by the entity in the Gaza Strip targeting the cars of citizens near the Islamic Court in the Nusseirat refugee camp, and other raids targeted sites of the Palestinian resistance.
Source: Website