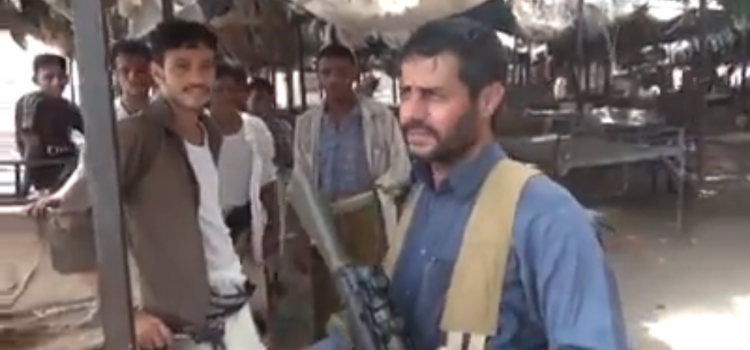 How do the Yemeni forces defeat the US-Saudi-led coalition's media claims in Hodeidah?
YemenExtra
Y.A
A member of the Politburo of Ansarullahو Muhammad Nasser al-Bekhitiو appeared in a video clip during a field tour in the market of the al-Tahita Directorate south of Hodeidah province, after the media of the US-Saudi-led coalition claimed controlling it.



Al-Bukhaiti stressed that there is no truth to what Al-Arabiya and AL-Hadath dealt with, the advance of the forces of the coalition to the outskirts of the Directorate of Hodeidah, pointing out that the forces of the coalition tried to circumvent the Directorate of Tahita, but the Yemeni army forces managed to address them and force them to retreat.



Al-Bukhiti toured the Tahita market and met with a number of citizens, who confirmed their stand alongside the Yemeni army forces  in the face of the forces of coalition and its paid fighters.

Hodeidah is a strategic port city which should be supporting more than 20 million Yemenis. It should be the source of at least 70 percent of all imports to Yemen," Suze van Meegen, a protection and advocacy adviser with the Norwegian Refugee Council, told AFP. The US-Saudi-led coalition has been eager to retake from Yemeni joint forces control, according to Yemeni officials.. But the former UN special envoy to Yemen, Ismail Ould Cheik, warned against attacking the port city over potential catastrophic consequences to Yemen last year. Martin Griffiths, the new special envoy to Yemen, echoed the same concern over attacking Hudaydah at the UN Security Council .
Abdulmalik al-Houthi, the leader of the Houthi(Ansarallah)  movement, which is the main force that faces the coallition, said on a TV speech ," The decision of invading the Yemeni ,western coast, has been taken and adopted by the United States of America,noting that the Saudis are trying to abolish Yemen's freedom," stressing that it was the people of Yemen's right to defend their country.
"We are increasingly concerned by the fighting in Hodeidah," UN spokesman Stephane Dujarric said at a press conference held on Wednesday.
Dujarric also warned of the repercussions'consequences on the humanitarian situation
"The occurrence of a battle in Hodeidah, in the west of Yemen could lead to the destruction of the port, which in turn will send millions to starvation," said the British newspaper, The Independent.
Even if the UK warned against attacking the vital port of Hodeidah, we bear responsibility for the horrors of this war, according to a report issued by the Guardian on June 17.
Despite the coalition's claim that it wants to control Hodeidh port to allow the entry of Humantrian aid to Yemen, the Yemeni government, loyal to the US-Saudi-led coalition, has been suffering for nearly a year in a crisis to pay the salaries of 67,000 employees.