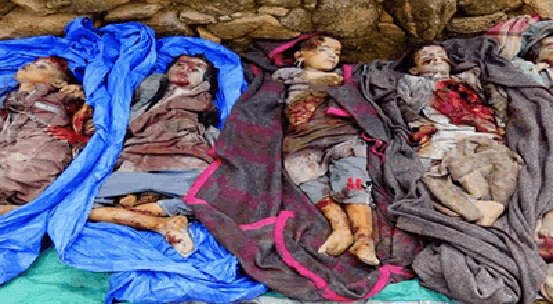 Over 577 civilians killed and wounded During First Half of 2018
YemenExtra
SH.A.
More than 577 Yemeni civilians, mostly women and children, were killed and wounded in the first half of 2018 by the US-Saudi coalition raids ,rocketry and artillery bombings on Sa'ada. This doesn't include all victims because there are many martyrs and wounded who do not reach the health centers or hospitals or areas where there is no communication.
According to statistics, the number of martyrs were 277 and 300 were wounded, the martyrs are divided to 79 children, 38 women and 160 men, while 91 children, 55 women and 154  men were wounded, all of them were innocent civilians.
As for the air raids of the coalition on Sa'ada governorate, which have not been counted or identified. A certain number can't be decided due to the intensity, 1677 air strikes were monitored distributed on the governorate's districts.
The magnitude of the destruction caused by this number of air raids is not comprehensible. it also revealed that the hatred of the aggressors against the province and  its people and the deliberately targeting of the land and man.