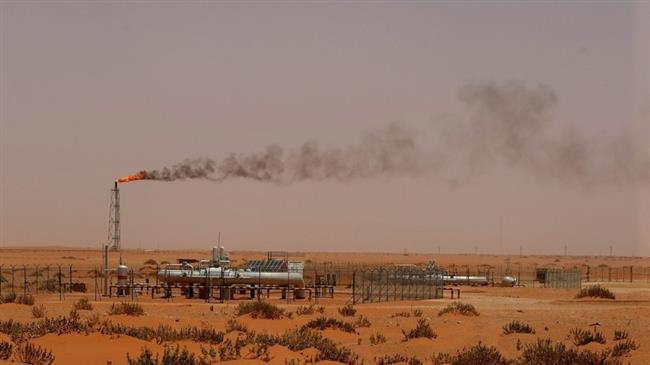 Yemeni army forces say they attacked ARAMCO refinery in Riyadh, as Saudi Aramco admits
YemenExtra
Y.A
The Yemeni army forces in Yemen said it had attacked a Saudi Aramco refinery in Riyadh on Wednesday using a drone in retaliation for the Riyadh regime's brutal military campaign against the impoverished country, as the oil company said it had contained a fire at the plant 
"Our drone air forces have targeted the refinery of ARAMCO company in Riyadh," read a tweet on the account of the Houthi-run television channel al-Masirah.
"The operation by the drone air force is a strong start in a new stage of deterring the aggression," it quoted a Houthi military spokesman as saying in a tweet.
Saudi Arabia before al-Masirah's tweet, Aramco announced that its fire control teams and the Saudi civil defense had contained a fire that erupted in the early evening in a storage containers at its refinery in Riyadh.
It , yesterday ,launched drone's strikes on a camp of the US-Saudi-led coalition in Jawf province, a military official told YemenExtra.
The drone's strikes hit Labanat camp accurately after a careful monitoring, as well as a state of panic amide the ranks of the coalition after the bombing,killing and wounding dozens of them added the official.
Additionally ,unmanned drones of the Yemeni army forces ,the day before yesterday, launched several raids on gatherings of the US-Saudi-led coalition troops and their paid fighters in the western coast.The drone strikes inflicted heavy losses in ranks and equipment of the coalition forces.

It is noteworthy that the guided aerial weapon managed to penetrate all defenses of their enemy and access to places that can access them ,carried out all operations successfully and hit targets accurately.
On July 5th,Scores of Saudi-sponsored paid fighters ,loyal to Yemen's former president Abd Rabbuh Mansur Hadi, have lost their lives when Yemeni army forces launched a drone strike against their positions in Yemen's southern port city of Aden.
It was mentioned that the Yemeni Air Force managed to penetrate all the defenses of its enemy and access to places that it can access it; in additionthe, a source of the Air Force Path confirmed that it has achieved all operations and hit targets accurately.
Yemeni source , loyal to Yemeni army forces, confirmed the continuation of military operations inside Saudi Arabia until the US-Saudi -led coalition against the Yemeni people stops.
The US-Saudi-led coalition launched an offensive on Hodeidah on 12 June in the largest battle of the war that the United Nations fears risks triggering a famine in Yemen where an estimated 8.4 million people are on the verge of starvation. Recently, It has been paused for peace talks, but no deal has been struck leaving Yemenis pessimistic over a viable political process.
Despite Riyadh's claims that it is bombing the positions of the Ansarullah fighters, Saudi bombers are flattening residential areas and civilian infrastructures.
A UN panel has compiled a detailed report of civilian casualties caused by the Saudi military and its allies during their war against Yemen, saying the Riyadh-led coalition has used precision-guided munitions in its raids on civilian targets.
Sayyad Abdulmalik AL-Houthi claimed on one of his speech that Saudi Arabia is just a tool used by USA and Israel to fight Yemen to conquer it and wrestle control over Red Sea and Bab-AL-Mandab which will enable them to rule the world.
According to several reports, the Saudi-led air campaign against Yemen has driven the impoverished country towards humanitarian disaster, as Saudi Arabia's deadly campaign prevented the patients from travelling abroad for treatment and blocked the entry of medicine into the war-torn country.
Yemen is the world's largest humanitarian crisis with more than 22 million people in need and is seeing a spike in needs, fuelled by ongoing conflict, a collapsing economy and diminished social services and livelihoods.
#worldcup2018russia #YEMEN #USA #SaveYemenChildren #US #Saudi #UK #UN #KSA #UAE #ISRAEL #Syria #USAKillsYemeniPeople