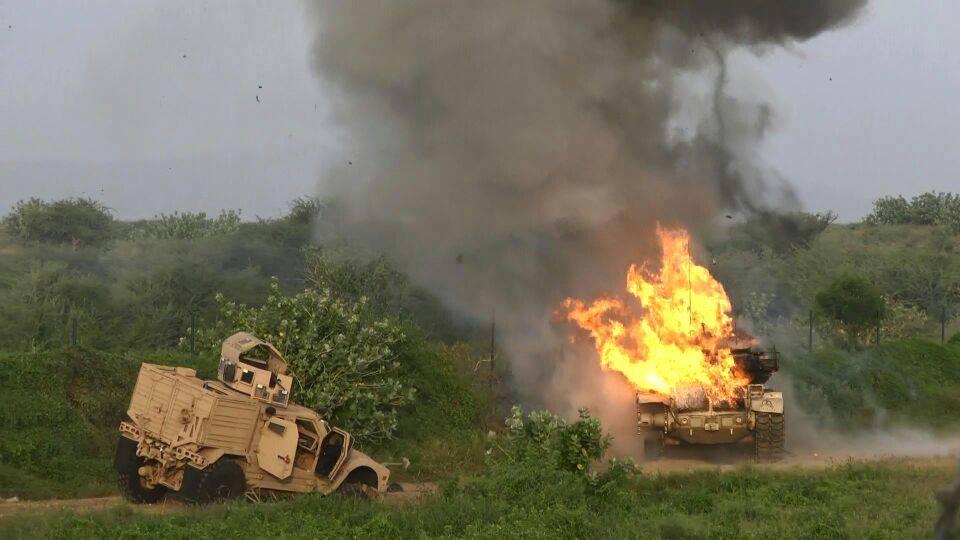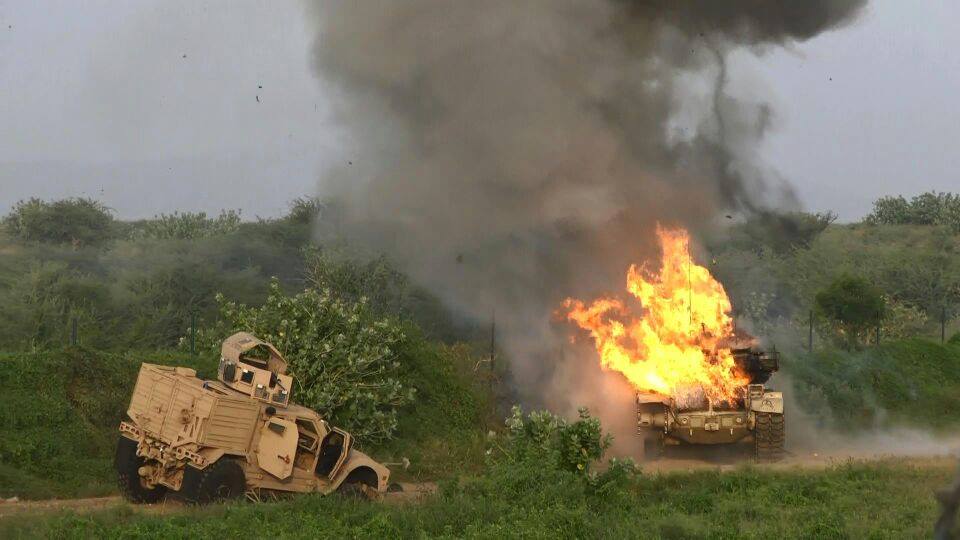 Yemen army advances in Taiz despite the coalition assault
YemenExtra
Y.A
The Yemeni army forces keep responding to the US-Saudi-led coalition's fatal campaign in Taiz province, while many political and public point of views rose.
They launched an offensive against the coalition's paid fighters , clearing several sites , killing and injuring dozens of the paid fighters, repelled an infiltration attempt of the paid fighters towards their sites , and shot dead three paid fighters , as well as their artillery  targeted fortifications and gatherings of the paid fighters in #Taiz .
In March 2015, the coalition started  a war against Yemen with the declared aim of crushing the Houthi Ansarullah movement, part of the Yemeni army forces, who had taken over from the staunch Riyadh ally and fugitive former president Abd Rabbuh Mansur Hadi, while also seeking to secure the Saudi border with its southern neighbor. Three years and over 600,000 dead and injured Yemeni people and  prevented the patients from travelling abroad for treatment and blocked the entry of medicine into the war-torn country, the war has yielded little to that effect.
In an interview with French daily Le Figaro published , last Tuesday, Sayyed Abdulmalik Al-Houthi stressed that  deplored France's support for the Saudi and Emirati regimes "France, which has a bitter experience with events targeting its security by al-Qaeda and Daesh, is making a mistake by standing alongside the Saudi and Emirati regimes, who support al-Qaeda in Yemen as factions fighting alongside mercenaries."
Political advisor to the ruler of Abu Dhabi, Abdul Khaliq Abdullah, said in his Twitter account on , yesterday ,that a new UAE position on the coalition's war on Yemen, saying  four years later it became clear that this war can not be won by a decisive military action.
Director of the Moral Guidance department in the Ministry of Defence in Sana'a, Brigadier General Yahya Saree also said that the equation has changed after bombing Saudi Aramco on Wednesday with drone strikes, confirming that the coming days are full of military surprises.
Additionally , the Deputy Foreign Minister, Hussein al-Azi the countries of the aggression hindered the arrival of political, diplomatic delegations and media from various countries of the world to Sanaa, stressing that the world's view towards Yemen has changed and the so-called of Hadi's legitimacy had faded away.
For their part, Kosmah tribesmen of Rimah province announced , yesterday, the general mobilization against the coalition forces and their paid fighters.
Notably, a group of activists held a protest in front of the Saudi Embassy in London on Wednesday, condemning the Saudi's policy in the region since 2011.
Local authorities in Aden, southern Yemen and run by UAE , yesterday ,said that the great sacrifices, made by the Yemeni army forces, in defending the land and safeguarding the dignity of people, especially the blood of the assissanated Ppresident, Saleh AlSammad, and his gards, is capable of destroying the coalition.