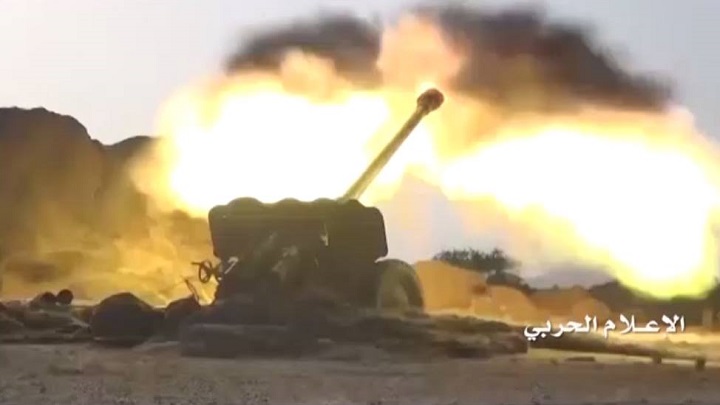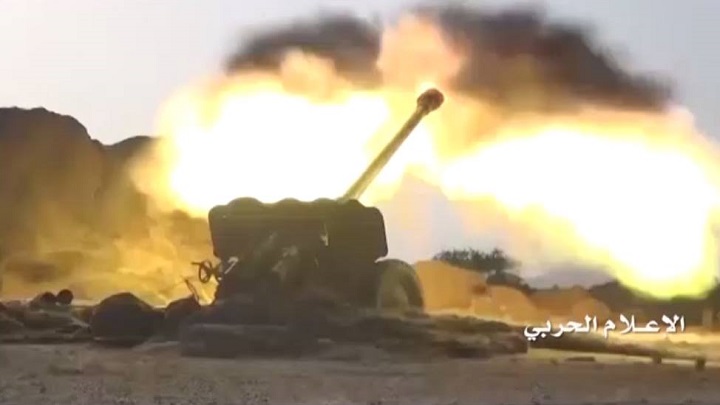 Yemeni army forces military operations after the latest airstrikes on civilians , mostly childern
YemenExtra
Y.A
In response to the US backed Saudi-led coalition airstrikes in an attempt to advance on the ground with their paid fighters, Yemeni army forces carried out many military operations in all fronts, inflicting great losses amid its soldiers, paid fighters and military equipment.
Three paid fighters were killed in a shooting operation in Al-Dheeq valley in Sarwah, Marib province, according to a military official.
The air defenses was able to down a spy drone operated by the coalition; the engineering Unit destroyed a military machinery with a bomb, and they destroyed a military truck was and killed paid fighters in Al-Mahashmah frontline, al-Jawf province, it added.
They also took over two posts during a swift operation western Majazah, killing and wounding a number of the paid fighters and destroying two military machineries,  shot dead a Saudi soldier in Qashbah watch post, targeted a fort in Al-Airawan with a guided missile, destroyed  a military machinery off Alab crossing with a guided missile and aimed at gatherings of the paid fighters with missiles and artillery shellings off Alab crossing, Asir.
The Yemeni war media reported that they hit gatherings of the paid fighters eastern Al-Tuhaita and destroyed a truck in the West Coast front.
They , in addition, aimed at gatherings of the paid fighters with artillery shellings eastern Al-Dood mountain and shot dead two of them, killedand wounded 10 paid fighters  western Al-Nar mountain, and targeted Saudi soldiers gatherings off Al-Dood mountain with guided missiles in Jizan.
In a seperate context, Thirteen citizens were killed and 13 others were injured, including children by the coalition raids in Sa'ada and Amran provinces, northern the country. The correspondent of YemenExtra said that two citizens were killed and four were injured, including children in Baqim district, in Sa'ada. In Amran, two citizens were killed and five others were injured.
Earlier in the day, a civilian was killed by a coalition missile and artillery shells that targeted Razih border district in Sa'ada province.
Notably, a funeral was taking place today morning in Sa'ada province of students bus who were targeted by the coalition airstrikes three days ago ,which killed 131 people, including 96 children in Dahyan market of Sa'ada.For its part, UNICEF describe the coalition airstrikes as the worst ever on childern.
In Hodeidah province, a citizen was killed and six others were seriously wounded in three airstrikes waged by the coalition fighter jets
In March 2015, the US backed Saudi-led coalition started  a war against Yemen with the declared aim of crushing the Houthi Ansarullah movement, who had taken over from the staunch Riyadh ally and fugitive former president Abd Rabbuh Mansur Hadi, while also seeking to secure the Saudi border with its southern neighbor. Three years and over 600,000 dead and injured Yemeni people and  prevented the patients from travelling abroad for treatment and blocked the entry of medicine into the war-torn country, the war has yielded little to that effect.
Despite the coalition 's claims that it is bombing the positions of the Ansarullah fighters, Saudi bombers are flattening residential areas and civilian infrastructures.
A UN panel has compiled a detailed report of civilian casualties caused by the Saudi military and its allies during their war against Yemen, saying the Riyadh-led coalition has used precision-guided munitions in its raids on civilian targets.
Sayyad Abdulmalik AL-Houthi claimed on one of his speech that Saudi Arabia is just a tool used by USA and Israel to fight Yemen to conquer it and wrestle control over Red Sea and Bab-AL-Mandab which will enable them to rule the world.
According to several reports, the coalition air campaign against Yemen has driven the impoverished country towards humanitarian disaster, as Saudi Arabia's deadly campaign prevented the patients from travelling abroad for treatment and blocked the entry of medicine into the war-torn country.
Yemen is the world's largest humanitarian crisis with more than 22 million people in need and is seeing a spike in needs, fuelled by ongoing conflict, a collapsing economy and diminished social services and livelihoods.