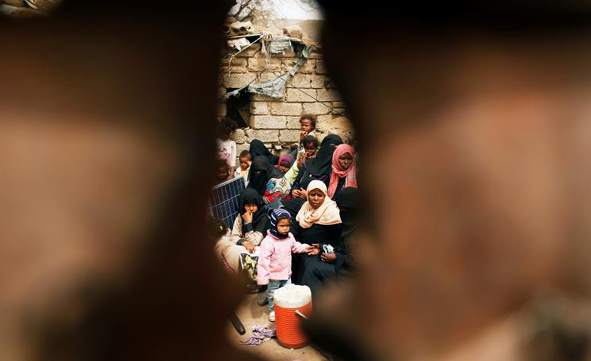 The people of Yemen are running for their lives – we just want the nightmare of war to end
YemenExtra
SH.A.
By: Mahmoud Majeed
Yemen has been steeped in conflict for nearly four years now, and the humanitarian crisis is one of the biggest in the world. The war, and subsequent destruction of the country's infrastructure, has led to the world's worst cholera epidemic, millions of people displaced from their homes, and more than 75% of the population struggling to find enough food and water to survive each day.
In June, the Saudi-led coalition began closing in on the port city of Hodeidah, leading to escalating violence in and around the area, hundreds of thousands more people displaced and vital routes for aid and supplies closed down.
CARE International's Yemen Country Director Johan Mooij announced last week that there is currently only enough food to sustain the country's population for two months. Over the past few weeks, there has been an increase in airstrikes on Hodeidah, jeopardising the lives of ordinary men, women and children.
Hodeidah is my hometown. For me it is the city of angels, the city that never sleeps. The people of Hodeidah have the kindest hearts and are so welcoming. Most of them work either as fishermen or in the market as daily labourers. They love to dance and socialise: they are simply full of life. Some people fled Hodeidah leaving a member of their family who'd passed away, and some are forced to bury loved ones along the way.
But today Hodeidah is not the place we knew. The city that never sleeps is now the darkest city in Yemen. People are leaving Hodeidah every day, running for their lives, fleeing to safety. When you enter Hodeidah, you see an ancient gate that always made me joyful. Today, seeing it in the news breaks my heart. I feel like a part of me has been taken, along with my happiness, my dreams and my hopes.
The precious memories of Eid, of attending friends' weddings, visiting family, and enjoying peaceful holidays with lots of laughter have been destroyed. I am constantly worried about my family. When I hear there were clashes or an airstrike, I call them; but sometimes the lines are cut so I can't get through.
This makes me very anxious because so many times, a house in our area was damaged or someone was injured. Sometimes I wish I had a magic wand to make this nightmare stop. The only thing that keeps me going is that in the midst of this crisis, at least I am serving my people.
I work as a field officer with CARE in the villages of Hodeidah governorate. Being in the field, you hear many stories of people who fled the violence with only the clothes they were wearing. Every day, we see new people fleeing from Hodeidah; the number and the need increases day after day. They flee to villages that are already in need of humanitarian assistance, but the people of these villages welcome the newcomers with open arms.