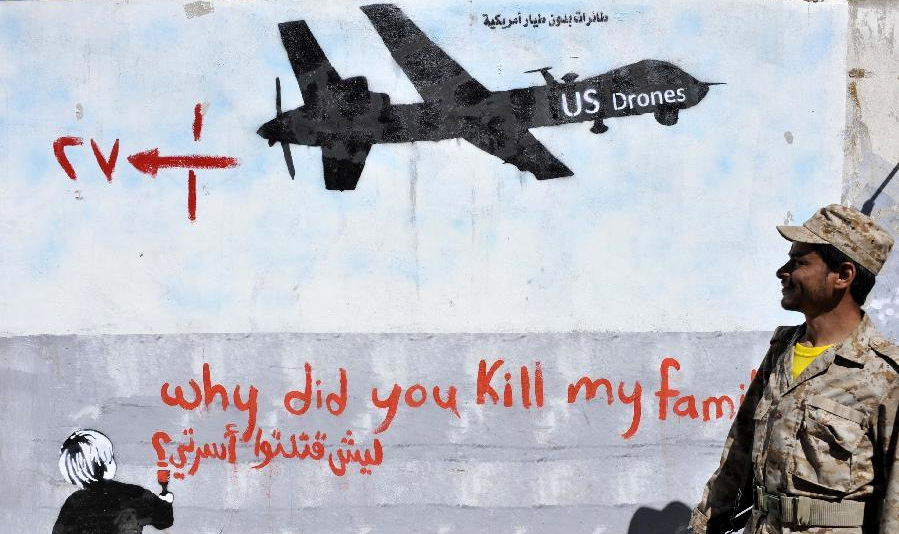 Despite UN child rights panel calls ,the coalition keeps killing ,injuring citizens in Hudaydah
YemenExtra
Y.A
The Saudi-led coalition, backed by US, launched a series of air raids on different part of Hudaydah as the United Nations Committee on the Rights of the Child strongly urged Saudi Arabia to stop its deadly airstrikes against civilian targets in Yemen.
According to a military official, homes and property of citizens were damaged due to the raids on Ad Durayhimi district during the past hours, while no injuries were reported so far.
Earlier in the day, a citizen was killed and others were injured by the coalition's air raids on Attohayta district in Hudaydah . A child was hit by the coalition's paid fighters while working in a flowers farm, in Al-Ghars area.
The coalition jets continued to fly over the area preventing the arrival of paramedics to save the victims. Reportedly, the coalition jets have targeted a number of paramedics after arriving to save injured people.
The panel of 18 independent experts made the demands in a statement on Thursday, adding that Yemeni children were being killed, maimed and orphaned by the Saudi-led military coalition that has been pounding Yemen for the past three and a half years.
The panel also noted that the Saudi-led war machine had conducted attacks on civilian targets in Yemen, including homes, medical facilities, schools, farms, weddings and markets, in breach of international law.
It also called on the Saudi-led coalition to remove its tight aerial and naval blockade on the impoverished country, saying the siege has deprived millions of Yemenis of food and other desperately-needed supplies, which were used to be imported through the vital port of Hudaydah.
In March 2015, the coalition started  a war against Yemen with the declared aim of crushing the Houthi Ansarullah movement, who had taken over from the staunch Riyadh ally and fugitive former president Abd Rabbuh Mansur Hadi, while also seeking to secure the Saudi border with its southern neighbor. Three years and over 600,000 dead and injured Yemeni people and  prevented the patients from travelling abroad for treatment and blocked the entry of medicine into the war-torn country, the war has yielded little to that effect.
The coalition launched an offensive on Hudaydah on 12 June in the largest battle of the war that the United Nations fears risks triggering a famine in Yemen where an estimated 8.4 million people are on the verge of starvation. Recently, It has been paused for peace talks, but no deal has been struck leaving Yemenis pessimistic over a viable political process.
International human rights organizations accused Western countries, including the United States, Britain, France and Spain, of supplying the coalition in Yemen with weapons which are being used to commit possible war crimes in Yemen.
#YEMEN #USA #SaveYemenChildren #US #Saudi #UK #UN #KSA #UAE #ISRAEL #Syria #USAKillsYemeniPeople