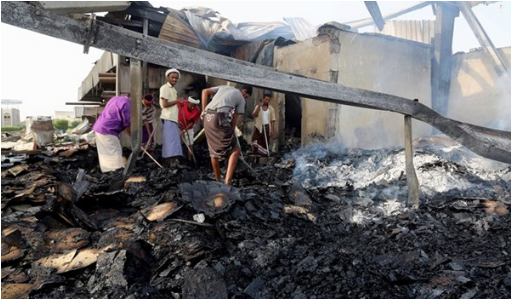 HR Ministry Condemns Coalition Massacre against IDPs Buses in Hodeidah
YemenExtra
SH.A.
The Ministry of Human Rights condemned on Saturday the terrorist crimes committed by the US-Saudi-led coalition against the Yemeni people.
In a statement, the Ministry of Human Rights condemned the targeting of two buses carrying displaced people in Jabal Ras district of Hodeidah province, which killed and wounded 49, mostly women and children.
The statement held the international community, especially the United Nations and its bodies, especially the Security and Human Rights Council, full responsibility for the escalation of the coalition and its terrorist practices and violations of human rights in the western coast and all areas of Hodeidah.
The Ministry reiterated its call on the United Nations and the Security Council to maintain international peace and security and to enforce the provisions respecting national sovereignty as well as respect for diplomatic relations between countries, protect the Yemeni people from any violations, stop the aggression and lift the siege.
The ministry called on the international community to form an independent and impartial international committee in accordance with the provisions of the Charter of the United Nations, international conventions and conventions on human rights and international humanitarian law in order to investigate all the massacres and crimes committed by the coalition's countries.
READ MORE
At least 19 killed and 30 wounded in a fresh Saudi massacre against displaced families