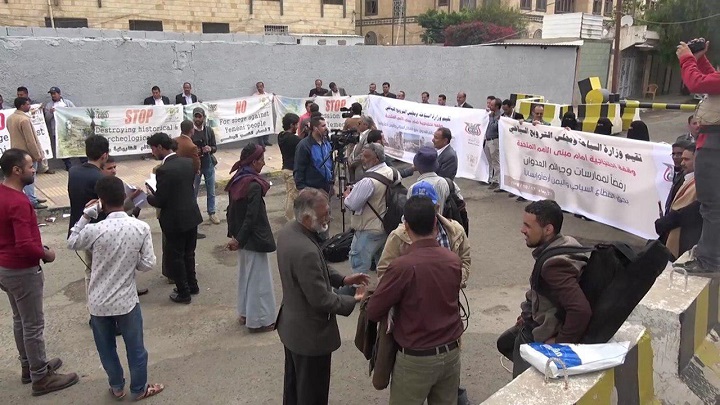 Employees of the Ministry of Tourism Protest in Front of UN Building in Sana'a
YemenExtra
M.A.
The staff of the Ministry of Tourism and the Tourism Promotion Board organized a protest in front of the United Nations building in Sana'a.
The protestors carried banners condemning the extent of the damage to the Ministry's installations and monuments in Yemeni governorates, which exceeded 279 establishments, resulting in their complete destruction, in addition to 219 archeological monuments that were destroyed and some were completely damaged according to the statistics of the Ministry of Tourism, where 95% Of the tourism staff had lost their jobs since the beginning of the Saudi-led war until the present.
The participants in the demonstration held the United Nations responsible for its complicity and for disregarding the systematic destruction of tourism in Yemen by the Saudi-led coalition, calling upon all international organizations to shoulder their responsibilities and to stop the Saudi war in addition to lifting the imposed siege on the Yemeni people.