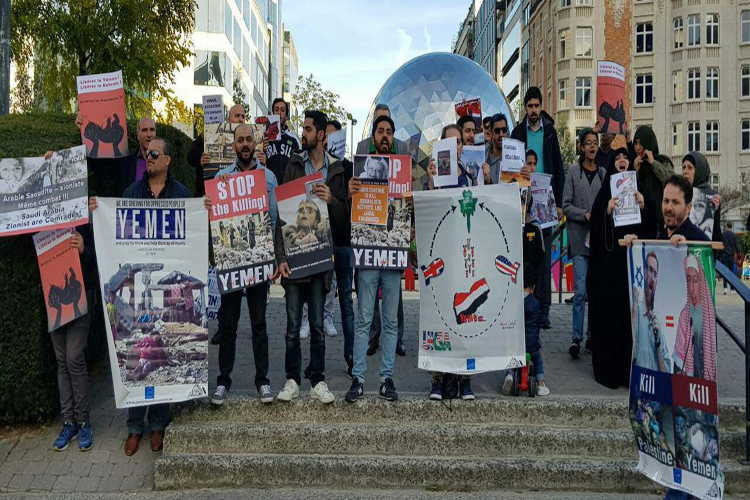 For the first time, protest before the EU headquarters in Brussels to condemns war on Yemen
YemenExtra
SH.A.
A number of activists in Belgium, organized a protest in front of the European Union headquarters in Brussels to condemn the Saudi-led coalition against Yemen.
The participants expressed their condemnation of the crimes committed against the Yemeni people and the siege imposed by the coalition of aggression.
The participants also raised slogans, banners and pictures showing some of the US-Saudi-led coalition's crimes in Yemen and the dire humanitarian situation the Yemenis reached because of the siege.
This is the first protest since the beginning of this war before the European Union headquarters in Brussels.
Over 18,000 missile attacks on markets, hospitals and cultural centers by Riyadh and coalition partners UAE, Bahrain, Kuwait, Qatar, Egypt, Jordan, Morocco, Senegal and Sudan, the borders between the two belligerents remain largely unchanged.
UNHRC data indicates that at least 8 million of the nation's 28 million people require emergency food assistance immediately, while humanitarian workers in the nation have identified areas in which people are eating leaves to survive, as an estimated 2.3 million people in the country have been driven from their homes and are now refugees.
As the Saudi-led coalition disrupts supplies of food and other necessary items, including medical equipment, through the sea, land and air blockade.