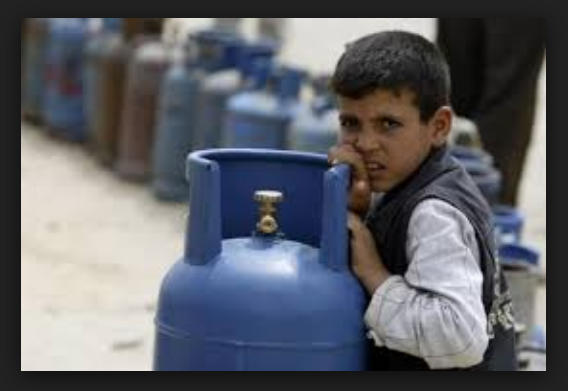 Who Exports Yemen's Gas to the World and Prevents it of Citizens?
YemenExtra
SH.A.
Yemeni citizens have complained about the continued gas crisis which has been ongoing for more than two months, despite the vast abundance of the commodity in the province of Ma'rib, located to only about 173 km northeast of the city.
Sanaa and a number of Yemeni provinces are suffering from a lack of domestic gas. Gas is used as fuel for vehicles and the remarkable rise in its prices on the black market has forced residents to use firewood for cooking and heating.
One Yemeni citizen, Ahmed Al-Falahi, condemned the continued lack of gas, he said : "We have gas in Yemen and we export it to the world, but we are deprived of it and we do not know why". He pointed out that gas is available in Ma'rib province and is under the control of the Coalition's forces led by Saudi Arabia Falahi added that:
Another citizen, Jalal Al-Mashriqi, denounced the rise in the price of cooking gas, which amounted to 12,000 Yemeni Riyals, as a "very high price". He told the New Arab that he had been looking for a gas cylinder for more than two weeks but to no avail. He did not have the money to buy gas from the black market and pointed out that he was forced to use firewood instead.
Al-Mashriqi added: "Even the price of firewood has increased dramatically, with the average package price reaching 3,000 Riyals, while the large package reaches more than 6,000 Riyals". He stressed that he gathered firewood from decorative trees planted in the streets and sidewalks.
The lack of gas has caused a rise in transportation costs, which increased by 100 Riyals, in addition to the amount allocated for bus fare.
Ahmad Radwan, a student at the University of Sanaa, said that the recent increase in transportation costs has exacerbated the suffering of university students in particular and citizens in general. He explained to the New Arab that the fare to university has doubled, adding that: "Whereas I paid 400 Riyals for the transport back and forth to university, I now pay 800 Riyals, which is a high amount for me".
For his part, a source from the Yemen Gas Company in Sanaa justified the causes of the gas crisis, citing the increasing demand from taxis, machinery, equipment and some factories which have resorted to using gas because of its low price compared to oil.
Over 18,000 missile attacks on markets, hospitals and cultural centers by Riyadh and coalition partners UAE, Bahrain, Kuwait, Qatar, Egypt, Jordan, Morocco, Senegal and Sudan, the borders between the two belligerents remain largely unchanged.
UNHRC data indicates that at least 8 million of the nation's 28 million people require emergency food assistance immediately, while humanitarian workers in the nation have identified areas in which people are eating leaves to survive, as an estimated 2.3 million people in the country have been driven from their homes and are now refugees.
As the Saudi-led coalition disrupts supplies of food and other necessary items, including medical equipment, through the sea, land and air blockade.