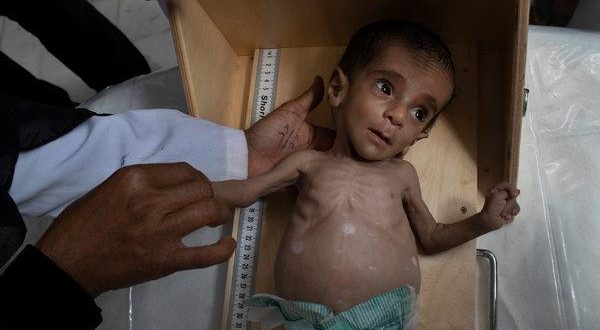 The Children of Yemen Are in Deep Need of Help
YemenExtra
M.A.
The Saudi-led way on Yemen alongside with various other Arab states, backed by the US and the UK, have caused the worst humanitarian disaster in the world since world war II. This four-year-old war might have a chance to come to an end if the United States is willing to. Two weeks ago, the US secretary of defense James Mattis called for peace talks within the beginning of the next month. This comes after the assassination of Jamal Khashoggi in the Saudi consulate at Istanbul, Turkey, which has cast light on the brutal Saudi war on Yemen that is being waged by the MBS, the crown prince of the kingdom.
The Saudi airstrike on the impoverished country has killed thousands of Yemenis, which is estimated that the toll of the killed civilians by the Saudi bombardment has killed more than  56,000 Yemenis, according to a new report by the Armed Conflict Location and Event Data Project (ACLED), a nonprofit conflict-research organization.
After the New York Times article about Yemen, the forgotten war was once recognized by the people around the world, especially those who are considered westerners. If you did read the article in the newspaper, you wouldn't forget the face of the Seven-year old named Amal, who was the cover page of the article. When the new york times took her picture, she was breathing, but she died a few days after the report was published. However, Amal was a mere one of more than 2 million children who are suffering from starvation.
The Saudi coalition warplanes have targeted residential areas and many events, either happy or sad ones, which is completely an unjustified manner. children have been killed in their school buses, in food markets, and at weddings and funerals. The UN has reported that women and children have been hit by snipers and shelling, "while in their homes, just outside their homes, fetching water at local wells, on their way to purchase food, traveling to seek medical attention and delivering critical supplies." Conditions are particularly worsening for women and girls, who are now more vulnerable to violence and exploitation due to the conflict. According to the UN, more than three million women and girls in Yemen are at risk of gender-based violence.
A few months ago, Canada and other countries have faced increasing pressure to suspend military assistance to the countries participating in an aggressive war against Yemen, who according to the UN, are responsible for potential war crimes.
"It was just like tickling a ghost," the United Nations food chief David Beasley said after he went to a three-day visit to the war-torn country in a conference held in New York.
While he was there, he spoke to a doctor within the capital of Yemen, Sana'a, in which he emphasized that up to 50 children come to the hospital he works daily, but the hospital can only  receive 20 patients as maximum, "We have to send 30 home to die."
The country's economy is in crisis and three-quarters of Yemen's population, or 22 million people, require aid. Some 8.4 million are on the brink of starvation, though Lowcock has warned that will likely rise to 14 million.
"This is not on the brink of a catastrophe. This is a catastrophe," Beasley said.
Beasley also visited Yemen's main port city Hodeidah, which handles 80 percent of the country's food imports and aid supplies, after the Saudi-led coalition conducted two airstrikes on it.
"That port has got to protected at all costs," Beasley said.
"We are prepared, if necessary, if all parties desire, for the U.N. to take over the operational capacity of the port. We are prepared to do that, we do not want to do that, but if that's what it takes we will do it," he said.
Beasley concluded by saying that he saw an eight months old baby who weighed only a third of what he should, but died shortly after he left the country.
Another story that was reported recently regarded a little, who her father is named Saleh al-Faqeh, died, as she was held from her wasted arm by her father while she took her last breath on Thursday at the malnutrition ward of the main hospital in Yemen's capital, Sana'a, after she was taken miles away from her home in Saada, northern Yemen, for treatment in the capital.
The United Nations says 22 million Yemenis, out of a population of 29 million, rely on humanitarian aid. Almost 18 million are considered hungry and 8.4 million severely hungry.