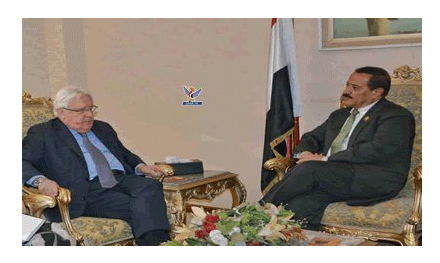 FM Meets UN envoy to Yemen, Talks About the Coming Negotiations
YemenExtra
SH.A.
Foreign Minister Hisham Sharaf on Wednesday confirmed that the political leadership represented by the Supreme Political Council and the National Salvation Government is committed to supporting all good efforts to find a peaceful political solution in Yemen.
During his meeting with the UN Secretary-General's Special Envoy to Yemen, Martin Griffiths, the minister stressed the importance of the coming consultations and negotiations to reach clear arrangements to establish a sustainable peace and a stable economic and financial situation.
Sharaf said that the next phase would be "a stage of sustainable peace between all the Yemeni parties."
At the meeting, the UN envoy presented a summary of his recent moves in a number of capitals and his consultations with members of the UN Security Council.
Griffiths said that "there is a real chance to bring peace to Yemen, and all parties must seize it to contribute to ending the humanitarian disaster and the suffering of the Yemeni people."
Since 2015, thousands of civilians, mostly children and women have been killed by Saudi airstrikes. Reports say that the Saudi-led coalition is committing daily crimes in Yemen.
The Saudi war has resulted in bringing famine to more than 14 million Yemeni civilian, which is half the population. According to Oxfam, a civilian is being killed because of the war every three hours. Moreover, the UN says that a child dies every 10 minutes due to starvation.