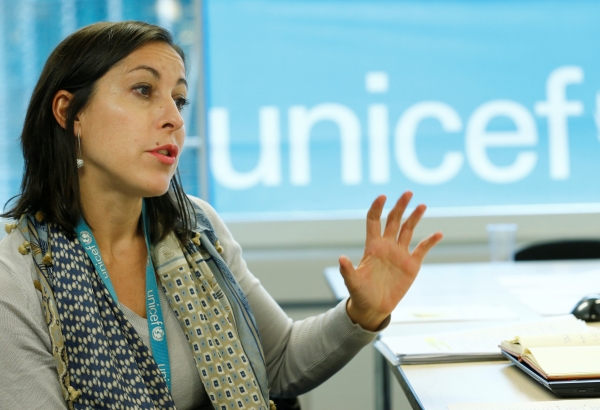 PM receives UNICEF Representative on occasion of end of her work's term's end in Yemen
YemenExtra
SH.A.
Prime Minister Abdul Aziz bin Habtoor received Wednesday UNICEF Resident Representative , Meritxell Relaño, on the occasion of the end of her work's term in Yemen.
The Prime Minister praised humanitarian role played by Relaño during the period of her work for the children of Yemen, the issue of Yemeni human and the transfer of what is suffering to the world.
He noted the achievements made in the framework of partnership between the Government of National Salvation and UNICEF to alleviate the great tragedy that afflicts the Yemeni people for the fourth consecutive year.
Dr. Ben Habtoor praised UNICEF's efforts in supporting the national effort led by the Ministries of Public Health, Population, Water and the Environment in cooperation with UNICEF in the face of the cholera epidemic as well as its mediating role in paying social security benefits to more than 1.5 million families.
He praised the role played of UNICEF in reaching an agreement with the Ministry of Education for paying of incentives for teachers, which is scheduled to start disbursing by the end of February.
He wished her success in her next mission and that Yemen remained present in its future humanitarian activities.
The PM pointed to the government's keenness to provide facilities to UNICEF and the other humanitarian organizations working in Yemen.
The meeting was attended by Ministers of Planning and International Cooperation, Abdulaziz Al-Kumeem, Social Affairs and Labor, Obeid Bin Dhebaa, Education, Yahya Al-Houthi, Water and Environment Eng. Nabil Minister, as well as Public Health and Population Dr. Taha Al-Mutawakel.
The horizon of cooperation for the coming period was discussed as well as ways of strengthening the existing partnership.
Relaño expressed her appreciation for the cooperation of the National Salvation government during the period of her work, which had the effect of achieving many vital achievements for the benefit of children and humanity in Yemen.
She reviewed the major achievements of UNICEF, ministries and concerned authorities over the past year in the sectors of public health, nutrition, water, environmental sanitation, cholera combat, education, and external communication.
She stressed that Yemen will remain at the heart of its new work alongside countries in similar circumstances.
This war has made three-quarters of the population in need of humanitarian assistance and pushed the country to the brink of famine, while the United Nations has considered the crisis facing the Arab country as the worst in the world.