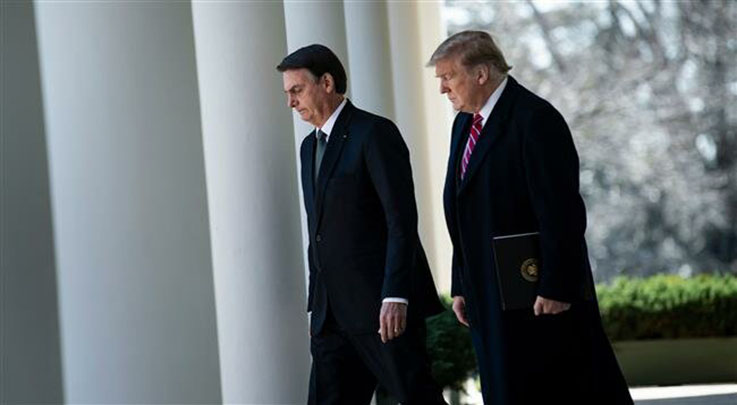 US 'Very Strongly' Considering NATO Membership for Brazil
YemenExtra
M.A.
US President Donald Trump said a joint news conference at the White House with Brazilian President Jair Bolsonaro on Tuesday he was strongly considering NATO membership for Brazil as he welcomed Brazilian or some other formal alliance with the Latin American country.
"As I told President Bolsonaro, I also intend to designate Brazil as a major non-NATO ally or even possibly, if you start thinking about it, a NATO ally. We have to talk to a lot of people, but maybe a NATO ally, which will greatly advance security and cooperation between our countries," Trump told reporters, sitting next to Bolsonaro.
"We are going to look at that very, very strongly in terms of whether it's NATO or it's something having to do with alliance. But we have a great alliance with Brazil, better than we have ever had before," he added.
Trump also stressed that Washington would be looking forward to expanding bilateral ties with Brasilia, saying the US will soon finalize an agreement with Brazil to conduct space launches from the South American Country.
Bolsonaro originally arrived in the US on Sunday, stating that the trip marked the first "pro-America Brazilian president" recently visiting the country.
Bolsonaro is an avid admirer of Trump and his policies, particularly those with regard to opposing anti-imperialist governments in Venezuela, Nicaragua and Cuba.
The Brazilian president, who is also known as "Tropical Trump," has sparked controversy by following Trump on calling for the relocation of his country's embassy to the occupied city of Jerusalem al-Quds.
Bolsonaro personally made the promise to Israeli President Benjamin Netanyahu while he attended the Brazilian president's inauguration ceremony on January 1.
Trump recognized the occupied city as Israel's so-called capital and officially opened the US embassy in the city in May last year, sparking international outrage.
Jerusalem al-Quds was occupied by the Tel Aviv regime during the Six-Day War in the 1967, and is deemed the capital of a future Palestinian independent state.
In January, Bolsonaro also said that he is open to considering the establishment of a US military base in Brazil as a way to "counter Russian influence" in neighboring Venezuela.
The move was later rejected by Brazilian Defense Minister General Fernando Azevedo e Silva.
This post originally ran on Almasirah