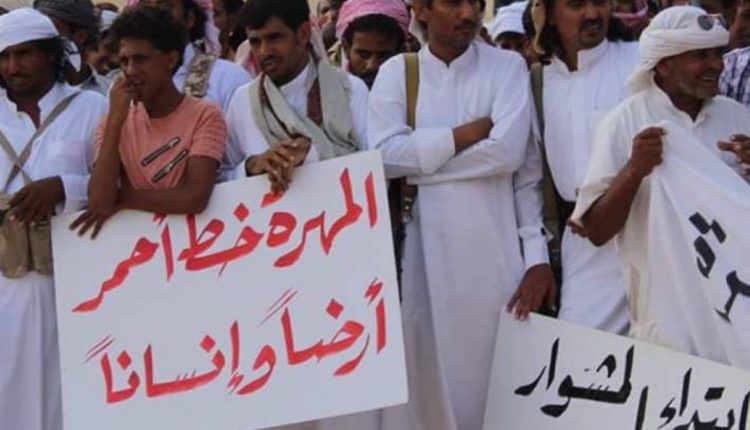 Eastern Yemen tribes Demand the coalition to Release Bin Kadah
YemenExtra
Y.A
Sons of Al-Mahrah province, in eastern Yemen, organized a protest to denounce the detention of former Governor, who is put under house arrest in Riyadh by Saudi authorities. In a statement issued, on Tuesday, vowed to step up protests and take various steps until Saudi Arabia stops its arbitrary measures against Bin Kadah.
They confirmed their stand with Bin Keda against the Saudi arbitrary detention, which prevented him from leaving Saudi Arabia. The statement pointed out that the tribes and sons of Al-Mahrah continue their protest and escalation until the travel ban is lifted of Sheikh Bin Kedah.
The former governor of Al-Mahrah, Muhammad Abdullah Bin Kadah, was dismissed from office. Three months ago, Sheikh Bin Keda was summoned by Hadi's government to Riyadh. Later, Saudi authorities were forced to arrest him and prevent him from leaving.
Political parties and forces in Al-Maharah called for the departure of the Saudi forces in the province since the beginning of last year.
The parties called in a joint statement , all the people of the province elders and heads, social figures and all tribes and political components to align and assume their national responsibilities to quell the fire of sedition.
Saudi warships arrived in the coast of the Hawf district of Al-Mahra province on Saturday, coinciding with anti-Saudi protests.
A source told YemenExtra that the warships raised the Saudi flag along the coastal strip of Hawf district, in an attempt to strangle on the fishermen.
In March 2015, the US -backed –Saudi-led coalition started  a war against Yemen with the declared aim of crushing the Houthi Ansarullah movement, who had taken over from the staunch Riyadh ally and fugitive former president Abd Rabbuh Mansur Hadi, while also seeking to secure the Saudi border with its southern neighbor. Three years and over 600,000 dead and injured Yemeni people and  prevented the patients from travelling abroad for treatment and blocked the entry of medicine into the war-torn country, the war has yielded little to that effect.
Despite the coalition claims that it is bombing the positions of the Ansarullah fighters, Saudi bombers are flattening residential areas and civilian infrastructures.
However, Saudi Arabia relies heavily on the US in its brutal war on Yemen. Washington has deployed a commando force on the Arab kingdom's border with Yemen to help destroy arms belonging to Yemen's popular Houthi Ansarullah movement. Washington has also provided logistical support and aerial refueling.
#YemenCantWait #YemenGenocide #Yemen #Yemencantwait #YemenGenocide #Yemen_children #StoparmingEmirates #StoparmingSaudi #Stopthewaronyemen#LivingInYemenOnTheEdge#SoldarityWithThePeopleOfYemen