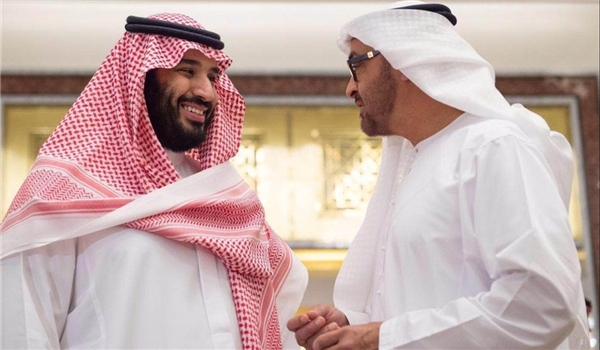 Media: Honeymoon Ends between MbS, MbZ
YemenExtra
Y.A
The two young crown princes of Saudi Arabia and the UAE who have had the biggest share in supporting the Takfiri terrorism and destabilization of the Middle-East in the past few years, are now at odds to set themselves free of the quagmire of Yemen war.
The Persian-language Nour News wrote on Sunday that the differences between Mohammed bin Salman and Mohammed bin Zayed on Yemen war have heightened and spread to their private lives.
It referred to the last week remarks by Hatice Cengiz, the fiancee of slain journalist Jamal Khashoggi, who pointed to Saudi crown prince's silence on the report of UN Special Rapporteur Agnes Callamard, which found "credible evidence" to further probe Saudi officials, including the crown prince himself, noting that she has long been aware of bin Salman's role in Khashoggi's death.
Nour News underlined that reemergence of Khashoggi's fiancée on the threshold of the G20 summit highlighted again bin Salman's role in the murder, adding that the Saudi officials believe that the UAE spy agencies and Mohammed bin Zayed, himself, played a role in Khashoggi's case.
According to the news website, the Saudis also did not sit silent against the Emiratis' plots, and the Saudi intelligence officers have recently held a meeting with the wife of Dubai's ruler Sheik Mohammed bin Rashid al-Maktoum who has left him and fled to Germany with their two kids and $56 million.
Informed sources were quoted by Nour News as saying that the Emiratis are now worried how the Saudis plan to use the secret information that Princess Haya Bint Al Hussein, the sixth wife of the Sheikh and the sister of the Jordanian king, has about the UAE.
Haya has sought asylum in Germany and has filed for divorce from her husband. Her decision to flee to Germany has sparked a diplomatic crisis with Berlin denying Dubai ruler's request to return the princess and her two children.
The Sheikh who is also vice-president and prime minister of the UAE had asked authorities in Berlin to return the princess along with their sons Zayed and Al Jalila, aged 7 and 11 respectively. His request has been denied, and German authorities are also providing security to the princess who is a known face in social and diplomatic circles.
With one of his wives leaving him, it has come as a huge blow for Sheikh Mohammed whose daughter Sheikha Latifa fled the country last year. In March last year, Princess Latifa fled the country by sea but was captured off Goa coast by Indian authorities. She was subsequently returned to Dubai and has not been seen publicly ever since.
Source:Website