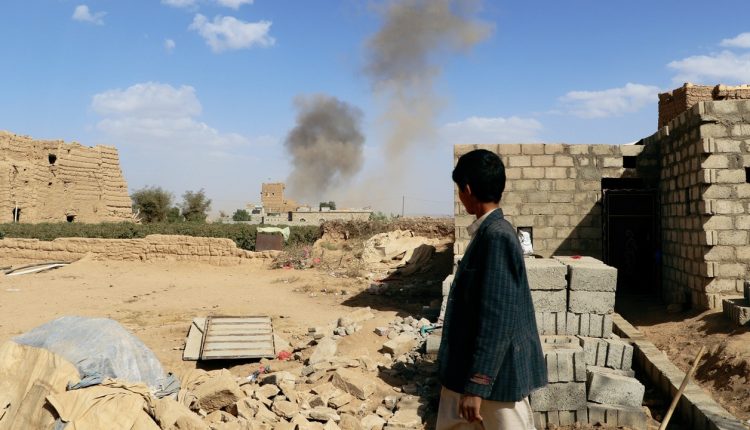 Australia benefits from killing Yemenis
YemenExtra
Y.A
Human rights groups called on Australia to immediately stop selling weapons to Saudi Arabia and the United Arab Emirates, the two Arab countries leading a deadly war against the people of Yemen.
Mwatana for Human Rights, a group investigating violations of humanitarian law in Yemen, has accused Australia of encouraging the war and "contributing to the worst humanitarian crisis in the world."
"The behavior of the coalition in committing violations of [international humanitarian law] and war crimes would not continue if the allies of Saudi Arabia and UAE, including [Australia], took a firm position and suspended the arms sales," a Mwatana spokesman, Osamah Al-Fakih, told Guardian Australia.
U.S. arms merchants also have grown rich. Fragments of the bombs were documented by journalists and HRW with help from Mastaba villagers. An HRW munitions expert determined the bombs were 2,000-pound MK-84s, manufactured by General Dynamics. Based in Falls Church, Va., General Dynamics is the world's sixth most profitable arms manufacturer. One of the bombs used a satellite guidance kit from Chicago-based Boeing, the world's second-most profitable weapons company. The other bomb had a Paveway guidance system, made by either Raytheon of Waltham, Mass., the third-largest arms company in the world, or Lockheed Martin of Bethesda, Md., the world's top weapons contractor. An In These Times analysis found that in the past decade, the State Department has approved at least $30.1 billion in Saudi military contracts for these four companies.
In March 2015, the US -backed –Saudi-led coalition started  a war against Yemen with the declared aim of crushing the Houthi Ansarullah movement, who had taken over from the staunch Riyadh ally and fugitive former president Abd Rabbuh Mansur Hadi, while also seeking to secure the Saudi border with its southern neighbor. Three years and over 600,000 dead and injured Yemeni people and  prevented the patients from travelling abroad for treatment and blocked the entry of medicine into the war-torn country, the war has yielded little to that effect.
Despite the coalition claims that it is bombing the positions of the Ansarullah fighters, Saudi bombers are flattening residential areas and civilian infrastructures.
More than 2,200 others have died of cholera, and the crisis has triggered what the United Nations has described as the world's worst humanitarian disaster.
#YemenCantWait #YemenGenocide #Yemen #Yemencantwait #YemenGenocide #Yemen_children #StoparmingEmirates #StoparmingSaudi #Stopthewaronyemen#LivingInYemenOnTheEdge#SoldarityWithThePeopleOfYemen