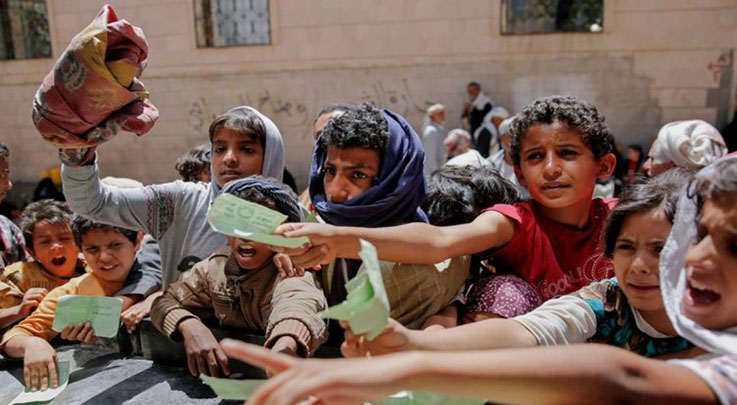 Devastating Violence in Yemen must end: Amnesty International
YemenExra
Y.A
The head of Amnesty International warned Monday that a US military intervention in response to the attack on Saudi oil facilities would only worsen suffering in the Middle East.
The rights group's secretary general, Kumi Naidoo, said the world, instead, should redouble efforts to end the devastating violence in Yemen, where a Saudi-led air campaign has been striking the country.
"We need to stop the bleeding right now, and any talk of military intervention right now will only exacerbate a bad situation," Naidoo told AFP in an interview in Washington.
He warned of the lessons of Iraq, where the 2003 US invasion that cited intelligence findings "created the catastrophe we have, not just in Iraq but in neighboring countries."
Yemeni Army has announced responsibility on Saturday for drone attacks on two major facilities run by Saudi Aramco, Saudi Arabia's state-owned oil giant.
Attacks on Abqaiq in Saudi Arabia, one of the world's largest oil processing facilities in the east of the kingdom, have caused record high crude prices in troubled global markets. It also caused a global awakening for the first time in scale on the humanitarian catastrophe and tragedy caused by the US-Saudi aggression in the 5-year war on Yemen.
In March 2015, the US -backed –Saudi-led coalition started  a war against Yemen with the declared aim of crushing the Houthi Ansarullah movement, who had taken over from the staunch Riyadh ally and fugitive former president Abd Rabbuh Mansur Hadi, while also seeking to secure the Saudi border with its southern neighbor. Three years and over 600,000 dead and injured Yemeni people and  prevented the patients from travelling abroad for treatment and blocked the entry of medicine into the war-torn country, the war has yielded little to that effect.
Despite the coalition claims that it is bombing the positions of the Ansarullah fighters, Saudi bombers are flattening residential areas and civilian infrastructures.
More than 2,200 others have died of cholera, and the crisis has triggered what the United Nations has described as the world's worst humanitarian disaster.
#YemenCantWait #YemenGenocide #Yemen #Yemencantwait #YemenGenocide #Yemen_children #StoparmingEmirates #StoparmingSaudi #Stopthewaronyemen#LivingInYemenOnTheEdge#SoldarityWithThePeopleOfYemen