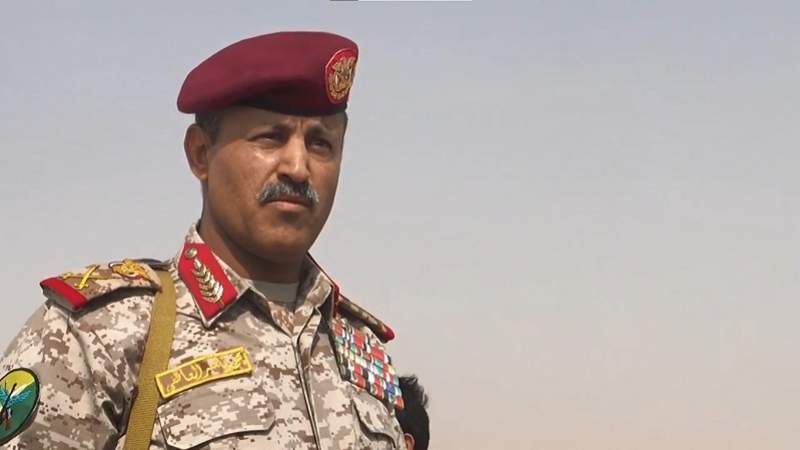 Minister of Defense warns from using strategic military operations if the aggression continues
YemenExtra
The Minister of Defense, Major General Muhammad Nasser al-Atifi, confirmed that the aggression escalation against the Yemeni people, does not help end the war, but rather further expands its geographical scope, undermines peace opportunities, and destabilizes the security and stability of the region.
Major General al-Atifi said, in a statement to Saba, "All these escalators and aggressive practices push us to inescapable military options for the enemy, except defeat, remorse and heartbreak," noting that the recent escalation is an American-Israeli escalation in the name of the defeated countries of aggression.
He added: "We as military personnel, and through our knowledge of the history of wars in various countries of the world, and our follow-up to the paths and developments of events, always find the defeated are the ones who work to escalate by targeting residential neighborhoods, deliberate strikes against civilians, killing children and women, and other criminal practices. This indicates their defeats and defeats on the field.
The Minister of Defense stressed that the painful strikes directed by the missile force and drones into the depths of the lands of aggression are only warning messages, perhaps deterring the aggressors and returning to their senses. He said: "But if their understanding remains slow, let them be aware that we are capable, and we possess all means and methods. The legitimate and strong, capable of chastising those who are tired of his foolishness, recklessness, and arrogance."
He pointed out that the coming period will witness painful and terrifying strikes in the military and economic strategic depth of the countries of aggression, and in areas, you do not expect, and this is a legitimate right of the Yemeni people within the framework of the stages of the "Yemen Hurricane" operation.