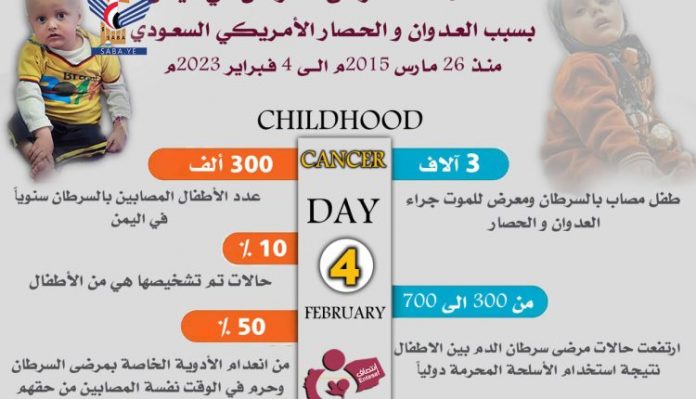 Intesaf Organization: Over 3,000 Yemeni Child Cancer Patients at Acute Risk of Death
Intesaf Organization for Women and Children's Rights reported that more than three thousand children in Yemen suffer from cancer and are at risk of dying as a result of the continued aggression and siege.
In a statement it issued on the occasion of World Cancer Day, February 4, the organization stated that the number of children with leukemia is constantly increasing and in staggering numbers, as it rose from 300 cases to 700 cases in the capital Sanaa.
It explained that children with leukemia are on the rise, as cases among children rose from 300 to 700 in Sana'a, and 1,000 children in the rest of the governorates.
The organization pointed to the lack of more than 50% of medicines for cancer patients as a result of the blockade and US-Saudi aggression, stressing that many children die as a result.
It pointed out that the aggression and blockade prevented children with cancer patients from traveling for treatment abroad, calling for the opening of Sana'a International Airport for humanitarian needs
The organization held the US-Saudi aggression responsible for all crimes and violations against civilians, especially children, over a period of eight years.