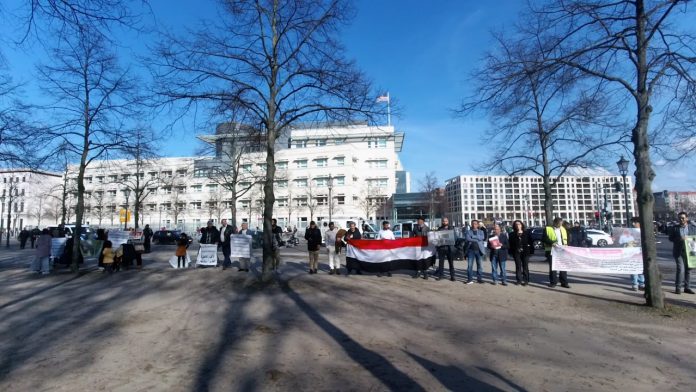 Protest And March Against The War In Yemen Held in Germany
The Yemeni community in the state of Schleswig-Holstein, in coordination with Organizations of INSAN for Human Rights and Peace and Stop the WAR in Yemen – German Peace Initiative from Berlin, Germany, held a protest and march against the war in Yemen in front of the Embassy of Saudi Arabia, the Embassy of the USA, the German parliament building "Reichstag," as well as the Chancellery, the seat of Olaf Scholz – Chancellor of the Federal Republic of Germany, on Saturday.
"The German Federal Government and all the editorial offices of German media houses remain silent on the war of aggression against the people of Yemen, which is contrary to international law and led by Saudi Arabia and the United Arab Emirates and participating Arab and African countries of the US-backed Saudi-led war coalition, " Mathias Tretschog from Stop the WAR in Yemen said in a statement.
Neither the German government nor its media say a word about the more than 3,000 innocent children, women and men killed or injured by more than 98,000 bombings by the Saudi/Emirati war coalition in Yemen in 2022 alone, Mathias Tretschog stated.
Nor is there any mention of the thousands of civilian infrastructure units destroyed, such as homes, roads, bridges, factories, farms, hospitals, schools, universities, shopping centers, drinking water and electricity centers, mosques and much more.
At the rally, speakers from Yemen and Germany affirmed that the targeting of civilians and civilian infrastructure are war crimes, crimes against humanity and genocide, according to international legal norms, which are never time-barred.
Although the 2+4 Treaty – "Only peace will emanate from German soil," the German Basic Law with its peace imperative, as well as the United Nations Arms Trade Treaty (ATT), explicitly prohibit arms deliveries to warring countries, the German government, by approving arms exports to countries involved in the war in Yemen, is helping to provide the Saudi/Emirati war coalition with the necessary means to commit genocide, war crimes, and crimes against humanity against the Yemeni people.
The speakers noted that all other member countries of the European Union or NATO that provide weapons, military services and other support to the Saudi/Emirati war coalition are also aiding and abetting war crimes and crimes against humanity against the Yemeni people.
According to the speakers, the horrific crimes of the Saudi/Emirati war coalition against the children, women, men, mothers, and fathers in Yemen are being aided and abetted by Germany and the West.
The protesters demanded the immediate lifting of the blockade of Yemen, the end of the war, the cessation of arms supplies to the Saudi/Emirati war coalition and acceptance of responsibility for their shameful behavior towards the Yemeni people.