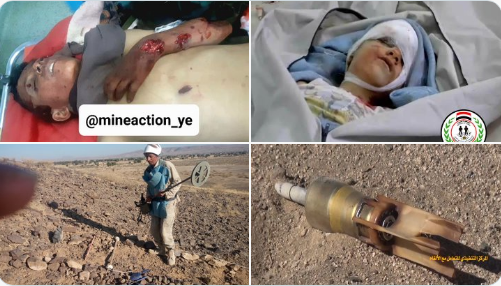 Report: Remnants Of Aggression Weapons Kill 10, Injure 9 In May
The Executive Center for Mine Action revealed on Saturday that 10 people were killed and nine others injured last May as a result of the remnants of the Saudi-led aggression weapons.
The center said in a statement that the number of victims of the coalition weapons remnants has reached 118 since the beginning of this year, including 50 dead and 68 wounded.
https://twitter.com/mineaction_ye/status/1665043157346648065?s=19
Children and women are the most vulnerable groups to be affected by the remnants of war, with 41 children and 10 women registered since the beginning of the year, according to the statement.
The Center added that the rate of stopping UN support for mine action activities has reached 95% of activities and actions since the beginning of the year, 2023.
"The coalition, by preventing the entry of mine detectors, is deliberately harming thousands of children and women and depriving the displaced of the opportunity to return to their villages," the center said.
The center called on all international and humanitarian agencies operating in Yemen to assume their moral and humanitarian responsibilities and protect citizens in Yemen from the remnants of war.