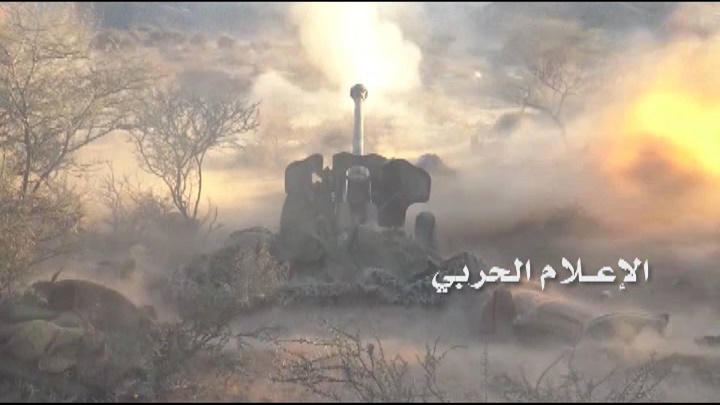 Dead and Wounded as Yemeni Joint Forces Carry out Military Operations
YemenExtra
Y.A
In response to the Saudi led coalition Military operations, the Yemeni joint forces carried out military operations, killing and wounding soldiers, seizing ammunitions, destroying and burning mechanisms in battlefronts on Tuesday.
A military official reported that the artillery in Yemeni joint forces targeted gatherings of Saudi soldiers and a leadership center in AL-Rabuah and AL-Masial sites, as well as they broke down a Saudi military tank headed to AL-Masial site with a guided missile in Asir.
The official added that aimed at Saudi soldiers' gatherings and destroyed a Saudi mechanism in AL-Gawaiah, AL-Dokhan and Kares Jawbah sites sustained direct injuries among them in Jizan.
Reporting to AL-Masirah channel, local agencies said that the artillery of the Yemeni joint forces targeted the Saudi soldiers' gatherings in AL-Ash site ,AL-Qatrin hill, and Rajla camp ,sustaining them direct injuries and also targeted the Saudi army artillery places behind AL-Shabakh site and Salateh site in AL-Boqa,causing them direct injuries as well; in addition, the snipers shot dead a Saudi soldier behind AL-Shabakh site in Najran.
Mareb was the scene of fierce military operations ; for example, on Tuesday , a Saudi aircraft carrying 12 Saudi soldiers dropped behind Tadween camp and two paid fighters shot dead in AL-Mokhaderah .
Moreover, sites in AL-Nar mountain series freed after the Saudi led coalition trying to take control of it for four days under an intensive aerial and sea supporting; last advances by Sudanese soldiers and paid fighters on AL-Nar mountan eastern Mokha foiled; mass mechanisms by the invaders eastern Mokha destroyed ; hundreds fell dead , including 100 Sudanese paid fighters in freeing AL-Nar mountain series ; a paid fighter sniper shot dead near AL-Shabkah in AL-Jahmaliah and another in Salah; gatherings and fortifications of paid fighters in AL-Mokalkel hill in AL-Jahmaliah , behind AL-Shabkah in AL-Salo and AL-Wakeel hill ; and a storming operation of the Yemeni joint forces on AL-Khazan hill in Hifan ,inflicting them a number of paid fighters fell dead and wounded in Taiz.
Furthermore, six of paid fighters killed in AL-Masloob directorate and AL-Faid AL-Matoon area in AL-Jawf.
The official confirmed that gatherings of paid fighters' gatherings below Fardat Nehim by Katysha missiles and artillery shelling as a result dead and wounded fell in Nehim.
The official said in a statement that, the Yemeni joint forces raided AL-Hamram hill in AL-Qabidah which resulted in killing and injuring a number of paid fighters in Lahj.
Yemeni forces have been responding to Saudi Arabia's more than two years of invasion launched in support of a former government. Thousands of civilians have been killed in the war which has also destroyed Yemen's infrastructure and put the country on the brink of a famine.