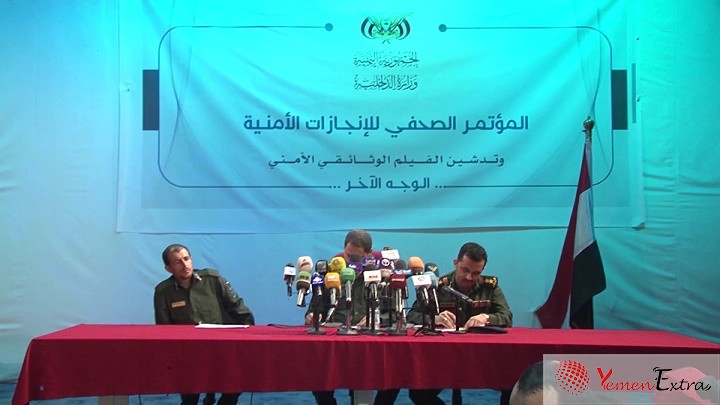 Yemeni Ministry of Interior and Its Security Achievements Under Saudi War
YemenExtra
M.A.
The Yemeni Ministry of the Interior held a press conference on the most important security achievements in has accomplished during the previous stage. It also revealed a security documentary about the non-patriotic role of the Islah Party and the confessions of some of its leaders who carried out criminal operations in favor of the Saudi war after being trained and armed in the early days of war.
The press conference highlighted the security achievement since the first Saudi airstrike until the end of the first quarter of this year. More than 2000 operations have been carried out, in which a number of elements involved Saudi-paid agents taking part in targeting Yemeni civilians ,as well as hundreds of foiled explosion operations. In addition, it successfully detected varying types of weapons, including light and medium.
The security services pointed out that the Saudi-led coalition constantly attempts to break the internal battle using the fifth column.
Moreover, the security media produced a documentary to expose the hidden side of the Islah party, the tool used by the Muslim Brotherhood in Yemen.
The security film speaks on the importance of of exposing the "military suite"of the Islah party in Yemen as some of them were trained and armed by the Saudi regime.
Concluding the conference, the Ministry praised the role of the "security suite", which has been responsible for a safe internal environment in mostly northern governorates, which are under the rule of Sana'a-based government, after the Yemeni joint military confronted the terrorist organizations of Daesh and Al-Qaeda.