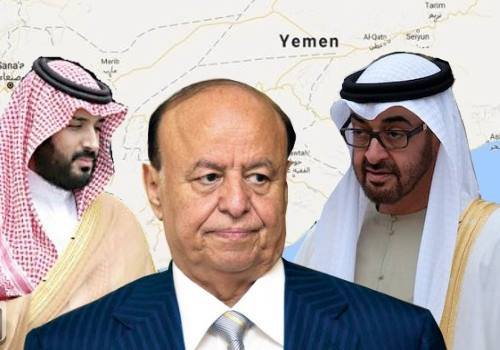 Media War between #UAE and #Saudi Arabia because of #Yemen
YemenExtra
Y.A
In a sign of the extent of the dispute between Saudi Arabia and the United Arab Emirates over Yemen, social networking sites have caught hundreds of comments among the political elites in Riyadh and Abu Dhabi. Twitter, for example, has become a real battlefield and mutual accusations.
UAE Minister of State for Foreign Affairs Anwar Gargash commented on his Twitter account: "Every action has a reaction. If the act is reckless, it is natural that the reaction frees pent-up feelings and transfers the scene to another level."
"I declare my popular recognition of the south state as a sovereign independent state," said Dhahi Khalfan, former deputy head of Dubai police.
While the UAE political science professor Abdul Khaleq Abdullah attacked the runaway Hadi violently and commented on the recent decisions by saying: "The right of the important UAE partner has the right to know the hasty decisions of Hadi and it has the  right to respond according to his inconvenience about  his confused decisions."
In response to the statements of the United Arab Emirates, the preacher of the Saudi prominent Awad al-Qarni considered  what happened in Aden as rebellion, and commented on his account in Twitter, saying: "The support of the rebellion of Aden is a sinister projection of what he called the legitimacy of the Arab alliance , the storm of firmness and its aftermath .
While the Saudi academic known as Abdel Aziz said, "The announcement of the declaration of" Aden "is very similar to what the Saudi led coalition media  describes, calls and against Yemen as a coup, and the state that supports the statement will overtake the storm."
The Saudi writer Khalid Al-Mahoush condemned the demands of the people of South Yemen to secede from the rest of the Yemeni state and said in a tweet through his account on the site of "Twitter": "mercenary demonstrations backed by money ,demanding with the secession of southern Yemen, show their plan ,oh Allah keep Yemen safe, Aden declaration ."
Hundreds of supporters of the so-called southern movement gathered in the southern Yemeni city of Aden on Thursday to protest against the decision of the ex-president Abed Rabbo Mansour Hadi, which was released Thursday (27 April 2017) and included that the governor of Aden appointed by UAE,and the Salafist leader Hani ibn Brik, the state minister of government should resigned and moved to the investigation, two allies of the UAE.
Hundreds of supporters of the southern movement gathered in the southern Yemeni city of Aden on Thursday to protest against the decision of the runaway and ex- president Abed Rabbo Mansour Hadi  and burned his pictures.