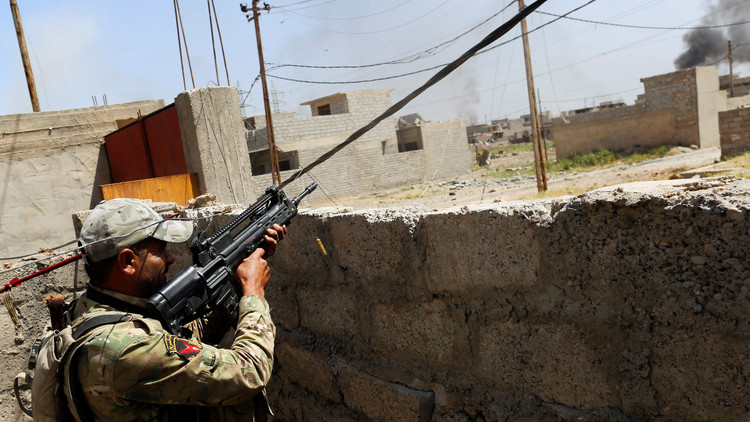 Iraq: 100 of "Daesh" in Western Desert killed and 30 Tamooz Neighborhood Liberated in Mosul
YemenExtra
Y.A
Iraqi forces announced the restoration of the neighborhood of 30 Tamooz and the northern industrial zone on the right side of the city of Mosul from the grip of the militants, "Daash", backed by Saudi;  in addition , 100 of "Daesh", backed by Saudi, killed on the border with Syria.
The Iraqi War Information Cell said in a statement that the security forces had "called" losses of life and equipment during those battles.
Earlier in the day, the command of the operations of the "coming oh Nenawi" said that the anti-terrorist forces liberated the northern industrial zone in Ayman Mosul.
According to the Iraqi army command, the "Daash" militants ,backed by Saudi, currently controlled only about 25 percent of the western half of Mosul.
In the province of Anbar, 100 militants from the organization of "Daesh" ,backed by Saudi, bombed the Iraqi air force in a desert on the border with Syria, as part of the military campaign to clear the desert areas on the border between the two countries from  the "Daesh "militants and secure it, announced by Abadi Tuesday.
The Iraqi "war media cell" said that the Iraqi fighters launched 11 air strikes on the targets of the militants, of  "Daash", backed by Saudi.
The strikes killed 47 terrorists in Al-Qaim and 53 in Al-Qaim and destroyed  bomb and rocket manufacturing sites, car bomb factories and a dedicated space station.