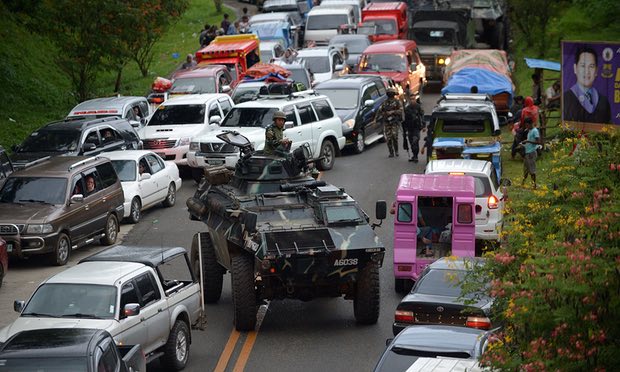 Philippine Army wins the upper hand in the battle for Marawi, 35 Daesh members killed
YemenExtra
M.A.
The Philippine Armed Forces are slowly retaking control of lost urban territory in the embattled city of Marawi, progressing through its western outskirts towards the city center and harbour which remain under Daesh control for now.
Therefore, at least 35 Daesh rebels have been killed. However, some 80 government troops and 9 citizens have died since clashes started on Tuesday with the Daesh-linked Abu Sayyaf and Maute groups currently capturing most of the provincial capital of Lanao.
The attack on Marawi, a mainly Muslim city of 200,000 residents, has led to a violent four-day battle, with the army deploying special forces and attack helicopters.
While up to 90 percent of Marawi's people have escaped amid the fighting, many who were trapped or refused to leave their homes have hindered military assaults, officials stated.
Philippine fighter aircraft also unleashed rocket fire against militants on Saturday, prompting villagers to rise white flags to avoid being targeted.
Photos of Daesh militants recently emerged through Amaq Agency, reconfirming their presence across Marawi. A recent ambush also occurred  in the countryside south of the city where Daesh snipers have elevated their activity.