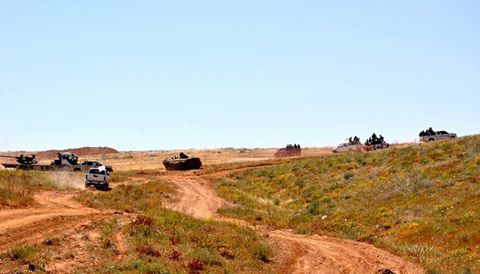 Syrian Army, Russian forces launch fresh offensive against Daesh in Eastern Hama
YemenExtra
M.A.
The Syrian government forces started, today, a new military operation to expel Daesh from the east countryside of Hama aiming to secure Salamiyah city.
The Army troops, backed by local fighters, waged the offensive from two axes attempting to reach the Daesh  stronghold of Aqirbat; which functions as the launch pad for the group's deadly attacks on Salamiyah.
According to sources, the attacking forces managed the taking over several villages and hamlets, including al-Barghouthiyah.
The same sources continued by stating that the Russian Special Forces are actively participating in the offensive, with the support of the Russian Air Force.
Daesh has recurrently carried out several attacks on Salamiyah, killing dozens of civilians as well as local fighters defending their city.
On May 18th, up to 46 people have been killed, 100 others injured in a gruesome carnage perpetrated by Daesh on Aqarib village to the east of Salamiyah city.