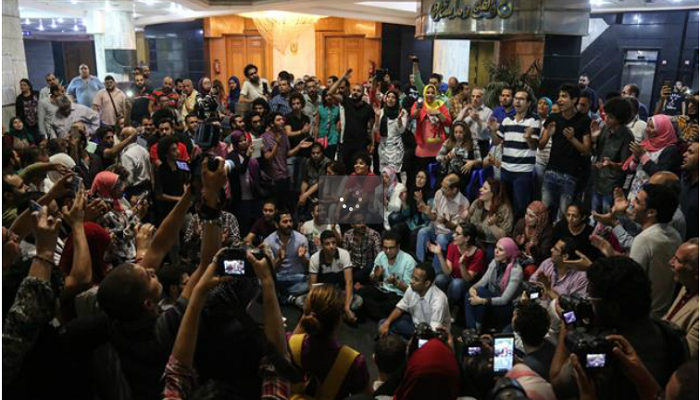 Egyptians protest against transfer islands to Saudis
YemenExtra
Egyptian police have clashed with the demonstrators who had taken to the streets of the capital, Cairo, to denounce a parliamentary committee's approval of a contentious deal to hand over two strategic Red Sea islands to Saudi Arabia.
With 35 votes for and 8 against, the Egyptian parliament's legislative and constitutional committee approved on Tuesday both the content of the accord and the legality of its referral to the legislature for ratification.
The parliament's defense committee will also examine the agreement before it goes to a general vote.
Shortly after the vote, protesters staged a sit-in at the headquarters of the Egyptian Press Syndicate in Cairo.
They clapped their hands and chanted slogans against Egyptian President Abdel Fattah el-Sisi such as "Down with military rule."
Leftist activist Hamdeen Sabahi, who was among the protesters, said the controversial islands deal would enhance Israel's grip on the region.
"We think that these islands will not go to Saudi Arabia but to Israel, and this deal is part of a mysterious arrangement in the region, especially what is called 'the Deal of the Century' – which means more Zionist control in the region, and [sees] Saudi Arabia and also all [Persian] Gulf countries as a part of the peace agreement," he said.
Khaled el-Balshi, el-Badeel newspaper editor in chief, said the approval of the "illegal" agreement by the parliament's legislative and constitutional committee shows that the Egyptian legislature "has lost its legitimacy."
Meanwhile, Egyptian lawyer Amr Khashab tweeted, "We are prepared to die or be arrested for our land."
The recent parliamentary vote came in defiance of a final court ruling that struck down the transfer of the islands to the Saudis back in January.
On April 9, 2016, Sisi announced that the islands of Tiran and Sanafir fall within the territorial waters of Saudi Arabia as stipulated in a maritime border accord signed between Cairo and Riyadh the previous day.
Since then, Egyptians have held mass protests condemning the arrangement as unconstitutional.
Demonstrators have accused Sisi of surrendering Egyptian territory, with reports saying that Cairo is receiving 20 billion dollars in aid from Riyadh in return for agreeing to the handover of sovereignty.
The government in Cairo, however, argues that the islands were always Saudi, but were placed under Egypt's protection amid tensions with Israel in the 1950s.