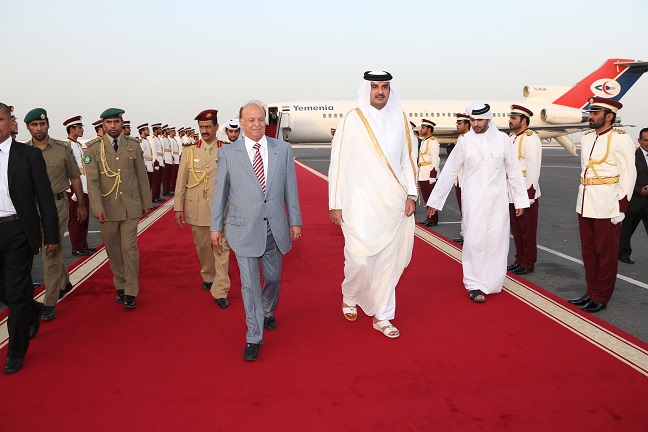 Qatar expels Saudi-backed Yemen embassy mission in Doha
YemenExtra
M.A.
The Qatari authorities have asked members of the Saudi-backed Hadi Yemeni embassy mission in Doha to leave the country within 48 hours.
A Yemeni diplomatic source reported to Sputnik Arabic that the Qatari authorities informed the Yemeni diplomats to leave in a maximum of two days from the date of the meeting.
Yemeni Foreign Ministry based in Riyadh has commented on this escalation.
The Saudi-backed Foreign Minister, Abdulmalik Al-Makhlafi, has described the decision of the Qatari authorities to expel the staff of the Yemeni embassy in Doha as an inevitable conclusion.
The Yemeni government based in Riyadh decided on May 5, 2017 to cut its diplomatic relations with Qatar due to the diplomatic conflict in the region without withdrawing its diplomatic mission from Doha immediately, unlike Saudi Arabia, the UAE, Bahrain and Egypt.
Qatari media has criticized exiled President, Abd Rabbo Mansour Hadi, and his Foreign Minister in particular, claiming that Qatar is spending too much money on the foreign minister and his ministry. Doha's finances are no doubt being strained from the Saudi-led blockade on Qatar.
Editor-in-Chief of the Qatari newspaper Al Arab, Abdullah Al Adhabah, stated on Al Jazeera that the Saudi-backed Yemeni government has repudiated Qatar's human and material sacrifices in order to restore legitimacy and power to the Hadi government.
However, Hadi is an ousted and a twice resigned president, but Qatar used the same excuse to join the Saudi-led coalition against Yemen after Saudi temptations and money.
The war failed to force Ansarullah revolutionaries to step down and is ow entering its third year of operation, and it has caused the death and injury of more than 30,000 civilians as well as the development of the "worst humanitarian crisis in the world", as described by the UN, due to the air, sea and land blockade.