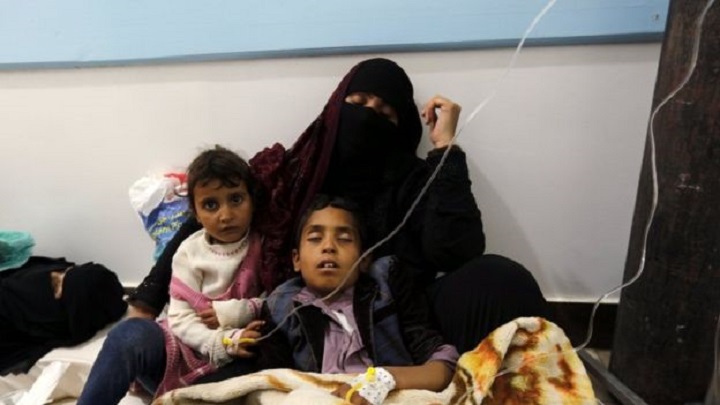 Suspected 246,000 cases of cholera in Yemen and 1,500 deaths: UN
YemenExtra
M.A.
The World Health Organization (WHO), UNICEF, the World Bank and donors have called for increased support for Yemen's cholera and water-borne response efforts.
"The outbreak of cholera is very serious and we have not seen anything. During the period from April 17 to June 30, we received suspicious reports," WHO representative in Yemen Dr. Nivwa Zagaria told a press conference held in Sana'a today on the cholera epidemic and response efforts. The disease has inflicted 246 thousand cases and killed 1500 cases. "
"In spite of our efforts to respond to the epidemic with UNICEF partners, we have not been able to reach the peak of the epidemic. In some areas, the epidemic has surpassed the accepted international average of six tenths, while in some areas it is declining."
"We need to expand and scale up the response to curb the spread of the epidemic and we will discuss during our meeting with the World Bank and donors the enhancing of support to strengthen the response efforts," he said.
The representative of the World Health Organization pointed out that the most important challenges and difficulties facing the work of the Organization is the collapse of the health sector in Yemen, the lack of salaries nor the healthy water and the spread of the epidemic.
He stressed on the importance of synergy and integration of the sectors of health, water and education to confront the epidemic.
In turn, said the charge of UNICEF in Yemen, Dr. Sherin Farki that the outbreak of the cholera epidemic is unprecedented, reports reaching the Organization indicate that five thousand cases are reported a day, including 50% of them are children .. He said that, "Every minute a child is reported to have the disease and this is not acceptable and is quite dangerous. "
He urged all parties to communicate in order to resolve the crisis and give the problem of the outbreak of the epidemic a priority in order to combat and reduce its extension.
 "The efforts to respond to the disease have overlooked the increasing malnutrition rates in Yemen," said UNICEF's acting representative.
"About 2 million children are vulnerable, exposed to the possibility of loss of life, deprived of education and sleeping with empty stomachs." The number of rainy seasons is expected to increase over the next two months.
The representatives of UNICEF and the WHO reviewed the programs, activities and potentials of the two organizations in a response to the epidemic and the support they have provided to reduce its spread, explaining that a ship carrying 400 tons of malnutrition and medical supplies, 20 ambulances and another 500 tons arrived by land and air.