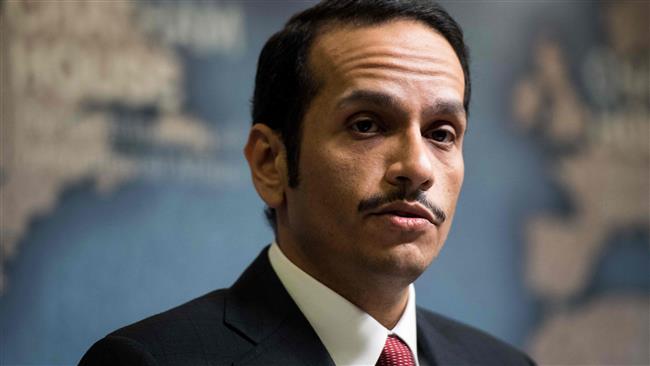 'Qatar seeks healthy, constructive ties with Iran'
YemenExtra
M.A.
The Qatari foreign minister has emphasized that his country needs a healthy and constructive relationship with neighboring Iran as opposed to the 13-point list of demands from Saudi Arabia and its allies, which include a downgrade of relations with the Islamic Republic and closure of Al Jazeera television news network.
Speaking at the Chatham House international affairs think tank in London on Wednesday, Sheikh Mohammed bin Abdulrahman Al Thani said Qatar and Iran had to live alongside each other, noting that the two countries share a giant gas field.
South Pars gas field, which is located in the Persian Gulf, hosts the bulk of Iran's natural gas reserves. The joint field – called the North Dome field in Qatar – is the world's biggest gas field with estimated reserves of 51 trillion cubic meters of natural gas and some 50 billion barrels of condensate. Experts believe that the field has more recoverable reserves than all other fields combined.
Al Thani further censured Saudi Arabia, Egypt, the United Arab Emirates and Bahrain for "clear aggression" against his country as their representatives met in Cairo to discuss further measures against the gas-rich Persian Gulf kingdom.
The top Qatari diplomat stated that the recent move by a number of Arab countries to sever their diplomatic relations with Doha and close their borders and airspace "were clearly designed to create anti-Qatar sentiment in the West."
"Qatar continues to call for dialogue despite the violation of international laws and regulations, despite the separation of 12,000 families, despite the siege that is a clear [act of] aggression and an insult to all international treaties, bodies and jurisdictions," he pointed out.
Al Thani noted that countries involved in the diplomatic rift with Qatar "were demanding that we have to surrender our sovereignty to end the siege, something which … Qatar will never do."
The Qatari minister suggested that he saw little chance of a rapid reconciliation, and that Doha is preparing for a wider diplomatic rift.
"What we've done in the last few weeks is develop different alternatives for ways to ensure the supply chain for the country not to be cut off," he said.
'Qatar not serious about Saudi-led demands'
Meanwhile, the four Arab countries seeking to isolate Qatar have said in a statement that Doha's response to their demands to end the Persian Gulf diplomatic crisis was "not serious."
Egyptian Foreign Minister Sameh Shukri told reporters at a joint news conference in Cairo that Qatar's response was "generally negative," describing it as a "position that reflects a failure to realize the gravity of the situation."
Saudi Foreign Minister Adel al-Jubeir stated that the boycott of Qatar will continue until the Persian Gulf kingdom changes its policies in line with those of the Riyadh regime.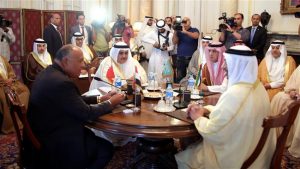 Saudi Arabia, the United Arab Emirates, Egypt and Bahrain all cut off diplomatic ties with Qatar on June 5, after officially accusing it of "sponsoring terrorism."
The administration of Saudi-backed and resigned Yemeni president Abd Rabbuh Mansur Hadi, Libya, the Maldives, Djibouti, Senegal and the Comoros later joined the camp in ending diplomatic ties. Jordan downgraded its diplomatic ties as well.
Qatar's Foreign Ministry announced that the decisions to cut diplomatic ties were unjustified and based on false claims and assumptions.
On June 9, Qatar strongly dismissed allegations of supporting terrorism after the Saudi regime and its allies blacklisted dozens of individuals and entities purportedly associated with Doha.
On June 23, Saudi Arabia and its allies released a 13-point list of demands, including the severance of all Qatar's ties with the Muslim Brotherhood and Lebanese Hezbollah resistance movement.
Qatar also had to pay an unspecified sum in compensation to the four Arab countries for the "loss of life and other financial losses caused by Doha's policies."
Those countries gave Qatar 10 days to comply with all of the demands. That deadline expired early Wednesday.
Source: Press TV