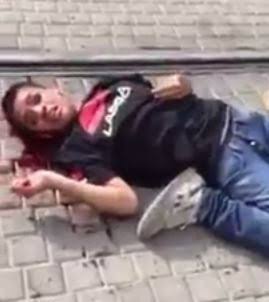 Palestinian teen sentenced to 9.5 years in prison
YemenExtra
M.A.
 A 15 year old Palestinian boy has just been sentenced to nine and a half years in prison by an Israeli court.
Ahmed Mansara, who was shot on October 12 2015 by Israeli police after trying to stab two Israeli colonists in Pisgat Zeev – a town based in occupied east Jerusalem – has been sentenced in an Israeli military court to 9 and a half years.
The sentence was reduced from a total of 12 years, which has sent the Israeli media into a frenzy about the "child terrorist".
The case of Ahmed Mansara went viral on the internet in 2015 with a video of the incident featuring the Israeli police yelling insults at the child (then aged 13) they had just shot and telling him to die as he lay bleeding out on the ground.
Under the 4th Geneva convention and also the 1960 declaration on the independence of colonial countries and people, the Palestinians in the West Bank have every right to fight back the continuous 50 year occupation of their land by Israeli regime forces.