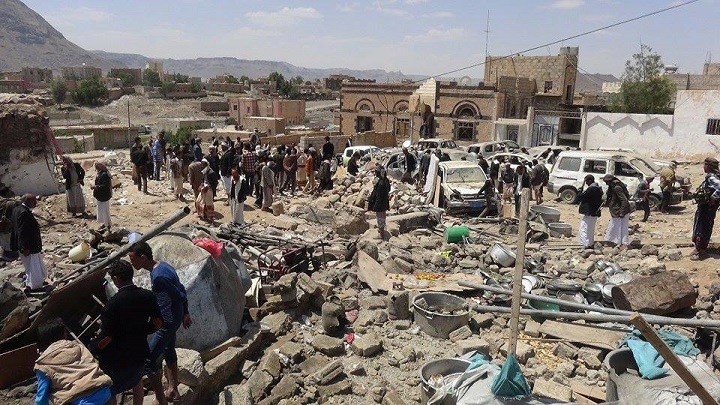 Sana'a Revives the Second Anniversary of the Saudi Massacre Against a Wedding
YemenExtra
M.A.
The preparatory committee organized on Saturday the second anniversary of the wedding massacre of Sanaban in Dhamar province, which killed 43 people and wounded more than 90 others, including 14 children, 13 women and 14 men as well as a bride and a groom by shelling the house of Mohammed Saleh Goubeh while he and his relatives celebrated the wedding of his sons.
During the event, participants stressed that the blood of the killed innocent civilians will and will always be a source of strength, steadfastness and resilience to bear the pain and suffering in confronting the Saudi-led coalition with its great wealth and sophisticated weapons.
"This stage requires everyone to console each other so that we can continue our struggle and our steadfastness in the face of aggression," an official at the event said.
Dr. Hamdani, a member of the local council of the secretariat, called on the United Nations organizations and the rest of the world to break their silence and take responsibility in ceasing the inhumane war on Yemen and the ruthless siege.
The statement issued by the event expressed the condemnation of all the Yemeni people, particularly the families of the victims toward the silence of the United Nations and the Security Council, calling for the trial of the Saudi regime.
Photo: From the Saudi massacre targeting a wedding in Sanaban.
Read More:
At Least Five Yemeni Civilians Killed in New Saudi War Crimes