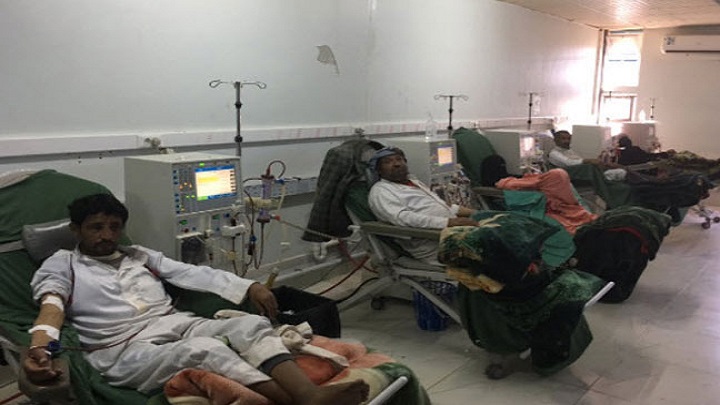 Yemeni Ministry of Health Launches an SOS to Rescue Kidney Dialysis Patients
YemenExtra
M.A.
The Ministry of Public Health and Population launched a call for relief to international organizations to rescue dialysis patients in Ibb and other governorates.
The ministry said in a statement that it received a distress call and an appeal from the dialysis center in Ibb governorate, which serves more than 600 patients of all ages with renal failure.
The statement also confirmed that the center of dialysis can no longer provide proper treatments for those suffering with this deadly disease, whereas the number of deaths has reached three to five a day due to the lack of medicines and solutions for dialysis.
In addition, the cessation of work in the dialysis center also means that the lives of 600 patients are at risk and subject to early complications and sudden death at any moment.
The ministry appealed to local and private public and private entities, headed by the Ministry of Finance and companies importing dialysis solutions, international humanitarian organizations working in Yemen and the international community to intervene quickly and save the patients in all dialysis centers, including the one based in Ibb governorate.
In its statement, the ministry expressed its hope that the distress appeal will be received by civil society organizations, local companies and international organizations, including the World Health Organization, the International Committee of the Red Cross and Doctors Without Borders.
Read More: 
Saudi-Led Coalition Bombs Sana'a Intl. Airport, Stops Humanitarian Aid Flights