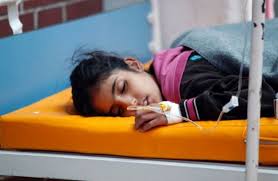 Yemen: Border closure shuts down water, sewage systems, raising cholera risk
YemenExtra
With imports of fuel and other essential goods at a standstill for the past ten days, three Yemeni cities had to stop providing clean water in recent days, putting close to one million people at risk of a renewed cholera outbreak and other water-borne diseases.
"The water and sewage systems in Hodeida, Sa'ada and Taiz stopped operating because of a lack of fuel", said the International Committee of the Red Cross (ICRC) head of delegation in Yemen, Alexandre Faite. "As a result, close to one million people are now deprived of clean water and sanitation in crowded urban environments in a country slowly emerging from the worst cholera outbreak in modern times."
Other major urban centres, including Sana'a, will find themselves in the same situation in two weeks unless imports of essential goods resume immediately.
Yemen's land borders, as well as major seaports and airports, were closed on the 6th November. Despite the recent reopening of the Aden port and airport, humanitarian shipments do not reach the majority of key urban centres, such as Sana'a and Taiz. Yemen, a country of 27 million people, depends on imports for 90% of its needs, including food, medicines and fuel.
"Hospitals, clinics and emergency medical services are powered by generators which will soon also run out of fuel", added Mr. Faite. "Yemen's health structures, which have been close to the brink for months, now risk collapsing altogether. This comes at a time when increased fighting throughout the country result in rising numbers of wounded people. Our own stocks of medical supplies are dwindling, and we risk soon being unable to provide critical support to dozens of health facilities."
Dozens of humanitarian staff, including members of our surgical teams, have not been able to return to their work in Yemen.
The ICRC renews its urgent call to immediately allow the flow of essential goods into Yemen, and reopen Sana'a airport for humanitarian flights. "Preventing humanitarian aid from flying into Sana'a, and the free movement of humanitarian workers in and out of Yemen, is paralyzing vital assistance on which millions of Yemenis depend for their survival", added Mr. Faite.
ICRC_Yemen