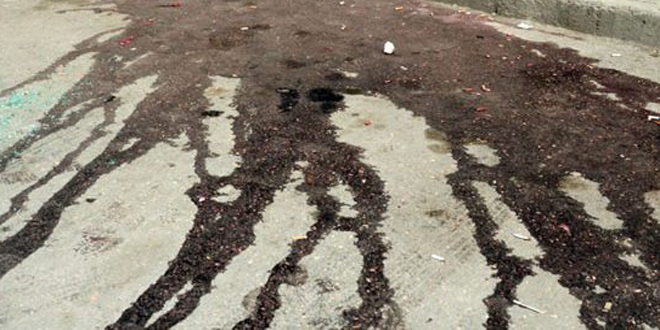 Three civilians killed, six others wounded in terrorist rocket attacks in Damascus, Damascus Countryside and Quneitra
YemenExtra
M.A.
Three people including a child were killed and material damage was caused on Monday due to the armed groups' rocket attacks on Damascus and its countryside in a new violation of the de-escalation zones agreement in Eastern Ghouta.
A source at Damascus Police Command reported that the armed groups fired a rocket shell, which landed on one of the citizens' houses in Khaled Bin al-Waleed street in Damascus, killing a civilian and causing material damage to the place.
The source added that another shell fell in Arnous Square in Damascus, causing material damage but no casualties.
The source said that a mortar shell landed in al-Mojtahed area, claiming a life and injuring three people.
The reporter added that the army units carried out intensive strikes against the terrorist positions in Eastern Ghouta from which they are targeting the residential neighborhoods, destroying their launcher pads and inflicting heavy losses upon the terrorists in personnel.
In Damascus Countryside, the armed groups targeted Jaramana city with several rocket shells, leaving a child dead and causing material damage to the houses.
Three civilians injured in terrorist shelling attack in Quneitra
Three civilians were injured on Monday when terrorists of Jabhat al-Nusra fired rocket shells on al-Khadami neighborhood in al-Baath city in Quneitra province.
A local source in Quneitra said that at least 14 shells hit the al-Khadami neighborhood in al-Baath city, injuring three civilians and causing massive material damage to services facilities and citizens' houses.
The reporter added that the shells were fired from the direction of al-Hamidiyeh town in the western countryside of the province where terrorist groups belonging to Jabhat al-Nusra are positioned, noting that the attack happened during the rush hour when employees were leaving their jobs.
A medical source at Martyr Mamdouh Abaza Hospital said that three persons wounded in the attack were admitted to the hospital, adding that a three-year-old boy is among the injured.
The reporter affirmed that the army units operating in Quneitra responded to the source of the shelling in al-Hamidiyeh town and inflicted losses upon their ranks.
SANA