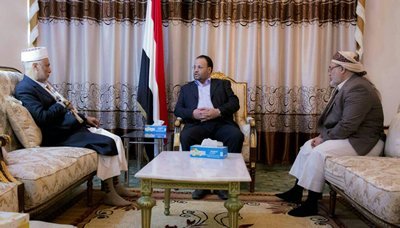 President of the Supreme Political Council Discusses Judiciary Situation
YemenExtra
SH.A.
According to the Yemeni News Agency Saba,resident of the Supreme Political Council Saleh Al-Samad met here on Wednesday with Head of Higher Judicial Council Judge Ahmed al-Motawakil and Minister of Justice Judge Ahmed Aqabat.
The meeting discussed the judiciary situation in various provinces and the tasks carried out by the judicial institution to improve performance in courts and prosecution offices.
In the meeting, President Al-Samad voiced the interest of the political leadership in the judicial institution and in providing the necessary support to it so as to enable it to do its tasks.
He stressed the need to activate judicial work by qualifying and developing the capacity of judicial cadres.
In the meeting, Judge al-Motawakil presented a summary on the functioning of judicial work and the difficulties facing the implementation of the functions of the judicial institution.
For his part, Judge Aqabat referred to the efforts of Justice Ministry and the judicial institution and their keenness to carry out the tasks and the completion of the work according to priorities.