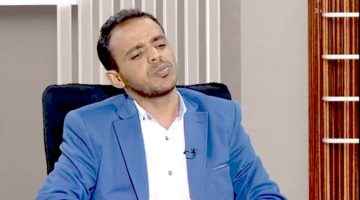 We understand the Jordanian minister's anger at the defense of Al-Houthi about Palestine
By:Talib Al-Hasani
Because the head of the revolutionary committee in Yemen, Mohamed Ali al-Houthi, criticized the role of Jordan and Egypt, the two Arab countries bordering the two occupied territories in the Israeli-Zionist siege on the Gaza Strip. They are very silent and even openly printed with Israel. Saleh al-Qallab published a major attack in the Kuwaiti newspaper Al-Rai on the head of the Revolutionary Committee and Iran.
Yes, Iran was not at all inspired by the words of President Houthi, but this became a source of the Arab proposal for this trend, which long ago replaced anti-Israelism. The Islamic State, which has paid a lot since the success of the Islamic Revolution in 1979, spoke a lot and completed the coup writing about the so-called Shiite crescent, this incorrect idea, which was included within the Islamic State of Islam, is one of the most important holy sites for Muslims and Christians together, Jerusalem and the city of Jerusalem. A lot of charges against Iran, I will not take much time to write about these illusions that drowned this current as it drowned in the solution of normalization with the occupied entity and to go to the political partnership, media and perhaps military soon.
Yes, the President of the Yemeni Revolutionary Committee made a big mistake when I think that this trend can be lifted from the bosom of Israel from Camp David to Oslo to the Saudi Arabian initiative (Beirut 2012), which grants the entity Arab Muslim land, leaving a humanitarian issue, the largest humanitarian issue in history, the Palestinian cause.
I will not mention the coup here in the recent unfortunate incident when one of the crews of the Israeli Embassy in Jordan killed two young Jordanians and returned safely to the entity was honored as a hero, passed by the Jordanian state as a passing event, nor the first cent of the Balfour Declaration, which passed more than a week and did not move a few The pens of this trend, which does not stop writing against all who defend the Palestinian cause, but I have to remind Mr. Mohamed Ali al-Houthi, head of the revolutionary committee in Yemen, that Jordan and Egypt is part of the Arab-Israeli alliance on Yemen, And Li close to the century equipped with Saudi Arabia with Abbas and Sisi deal Jordanian King for the liquidation of the Palestinian cause.
Yemen in this great ordeal defends Palestine, and the head of the revolutionary committee criticizes Egypt and Jordan and their shaky attitude towards Palestine. It is a great equation that calls for all the Arab homes of Israel to come out to defend the occupied Israel.
Translated by:YemenPress