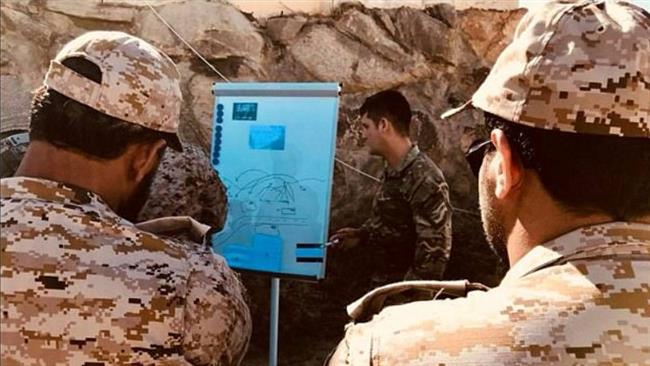 UK secretly training Saudi troops for Yemen war: Report
YemenExtra
The British Army is secretly training Saudi Arabian soldiers to fight in Yemen, where more than 12,000 people have been killed since the onset of the Saudi war in March 2015, according to a report.
The training, codenamed Operation Crossways, was disclosed after the UK Army mistakenly released photos and a mission summary on 2 Scots' Facebook page earlier this month, The Mail on Sunday reported.
As part of the training, about 50 British military personnel from 2nd Battalion the Royal Regiment of Scotland (2 Scots) have been teaching battlefield skills to officers from the Royal Saudi Land Forces Infantry Institute.
The skills are known as the "Irregular Warfare" which is a collective name for specific tactics used by conventional armies to fight terrorists.
In one of the images released, a British instructor can be seen standing in front of a map showing Yemen and the surrounding area as he explains a possible attacking strategy.
The training mission is part of the UK's "shameful complicity" in the suffering of the Yemenis, said Tory MP and former Development Secretary Andrew Mitchell.
Mitchell demanded Friday that the government provide answers in the Commons about its role in Saudi military aggression.
"The UK has been shamefully complicit in Saudi's role in Yemen, which has clearly included breaches of the Geneva Conventions," he said.
"I have no doubt Parliament will require an explanation of this training mission in view of the high level of concern about the humanitarian catastrophe unfolding in Yemen," he added.
Also, former head of the Royal Navy, Lord West, called for transparency over Britain's role in training Saudi soldiers.
"Given the sensitivities surrounding Saudi Arabia and Yemen at the moment it would be better to be open about what we are doing. Our training will hopefully save lives," West said Friday.
Saudi Arabia has been incessantly pounding Yemen in an attempt to crush the Houthi Ansarullah movement and reinstate former President Abd Rabbuh Mansur Hadi, who is a staunch ally of the Riyadh regime.
Thousands of civilians have died in bombing raids and around one million children are facing starvation and serious illness as a result of the conflict.
Britain's sales of military equipment to Saudi Arabia hit £1.1 billion in the first six months of this year, according to the latest government data.
The UK sold £836 million worth of arms and military hardware to the Saudi kingdom between April and June, up from £280 million between January and March, according to statistics by the Department for International Trade (DIT).
According to Press TV