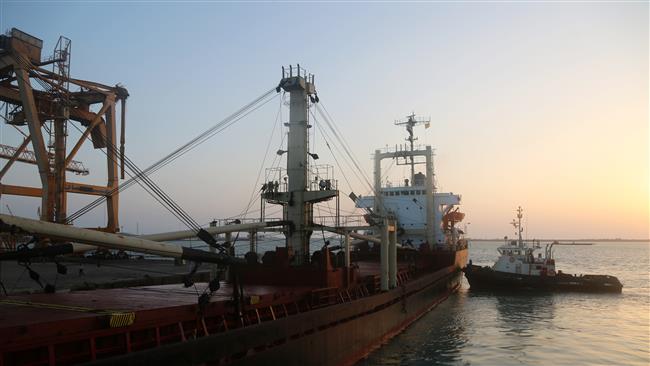 First food ship in three weeks arrived in Yemen
YemenExtra
Y.A
The first humanitarian aid ship in three weeks has arrived in the Houthi-controlled Yemeni port city of Hudaydah at the Red Sea coast on Sunday. The vessel was the first one to be able to dock since a total blockade of the country was implemented by the Saudi-led military coalition three weeks ago.
"The ship is 106 metres long and carries 5,500 tonnes of flour," a Yemeni official stated.
Alongside the news of the first food shipment that arrived, a statement by UNICEF mentions that delivery of medicinal vaccines to the airport of the Yemeni capital city of Sana'a has also been restarted, with Regional UNICEF director Geert Cappelaere stating that 1.9 doses of vaccinations have been flown into the country.
According to UNICEF estimates, over 11 million Yemenis are in acute need of humanitarian aid, with a child dying of preventable causes every 10 minutes, as a result of Saudi aerial bombardments and punishing sanctions.
Riyadh imposes a devastating total blockade on Yemen on November 6, closing all land, sea and air traffic into the impoverished nation, as a reaction on a series of successful missile strikes on Saudi targets by Yemeni resistance group Ansarullah, also known as the Houthis. The blockade prompted international condemnation by humanitarian agencies, who pointed out that due to the Saudi actions, at least 7 million people were faced with famine and risk of starvation.
While the port of Hudaydah is under Houthi control the naval blockade by the Saudi coalition made it impossible for aid ships to reach the por.. It seems however that this naval blockade has been relaxed somewhat on Sunday.
More than 12,000 people have been killed since Saudi Arabia started its deadly campaign against Yemen in March 2015. Much of Yemen's infrastructure, including hospitals, schools and factories, has been reduced to rubble as a result of the invasion.