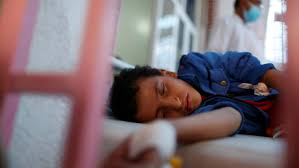 Discussion on Yemen Humanitarian Crisis!!
YemenExtra
Arab foreign ministers are to meet in London on Tuesday amid growing international calls for the opening of Yemen's ports to new aid shipments to prevent a humanitarian disaster.
The Saudi-led coalition fighting in Yemen has eased restrictions at the main airport and two key ports following a three-week blockade after Iranian-backed Houthi rebels fired a missile at the Saudi capital Riyadh.
"The people who are suffering most from this conflict are the people of Yemen," said Mr Johnson.
Three humanitarian flights landed and took off from the capital of Sanaa on Saturday while a commercial cargo ship and a U.N.-chartered vessel docked at two ports on Monday.
Rapidly dwindling fuel stocks are pushing at least seven million people towards famine, according to the United Nations.
The Saudi-led coalition went to war against Houthis, in March 2015 .But the coalition has made little progress, and the Houthis still control much of northern Yemen, including Sanaa.
In this context, Saudi Arabia said on Monday that the coalition would lift the blockade that was imposed to prevent the Houthi from receiving supplies.
Source:Website