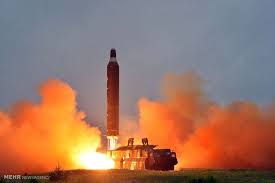 North Korea claims new missile is capable of striking 'all of US'
YemenExtra
North Korea said it has successfully tested an intercontinental ballistic missile capable of "striking the whole US mainland".
Pyongyang claimed the nuclear-capable missile, known as Hwasong-15, is the most powerful weapon it has ever tested.
In a broadcast on state television, the isolated state added that the new ICBM was "significantly more" powerful than the previous two long-range weapons it tested, and it is capable of carrying a "super-large heavy warhead".
Kim Jong Un added that Hwasong-15 "met the goal of its missile development".
The missile flew 590 miles (950km) to an altitude of 2,781 miles (4,475km) for 53 minutes – more than 10 times the height of the international space station.
North Korea said its nuclear weapons pose no threat to any country as long as its own interests are not infringed upon.