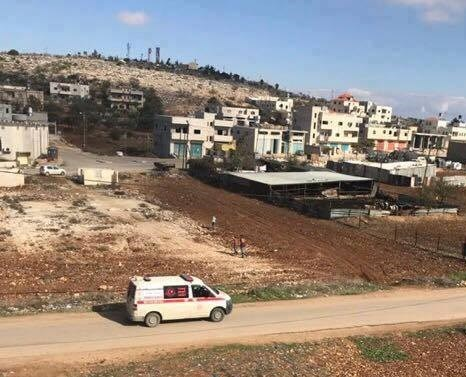 Israeli settlers open fire on Palestinian farmers, killing 1, injuring another
YemenExtra
Y.A
A Palestinian farmer was shot dead by Israeli settlers on Thursday while he was working on his land near the village of Qusra, to the south of Nablus in the northern occupied West Bank, according to local sources.
An official who monitors settlement activity in the northern West Bank told Ma'an that Israeli settlers from the illegal Yash Kod settlement outpost raided Palestinian lands near Qusra and attacked a farmer, Mahmoud Ahmad Zaal Odeh, 48, as he was working the land.
According to locals, Odeh attempted to prevent the settlers from entering his land, at which point, the settlers opened fire on him, shooting him in the chest. He succumbed to his wounds shortly after he was shot.
Another Palestinian identified as Fayez Fathi Hasan, 47, was injured in the leg by the settlers' fire. Locals told Ma'an that Israeli forces detained Odeh's son and took him to the Huwwara military base nearby, and have not yet returned Odeh's body to his family.Shortly after the deadly attack, Israeli forces raided and surrounded the village to protect the settlers, preventing all Palestinian movement in the area. An Israeli army spokesperson told a completely different account of the events to Ma'an, saying that "earlier this morning 20 Israeli civilians were travelling near the village of Qusra southeast of nablus," not specifying if the settlers were on foot, or why they were on the farmlands in the first place.
"During the trip, Palestinians threw rocks at the group, and in response, one of the travellers fired towards the Palestinians, and one was injured."
"The travelers entrenched themselves in a cave," the spokesperson said, adding that shortly after, Israeli army troops arrived in the area to protect the settlers.
The spokesperson added that the "incident" will be investigated by the army.
An upwards of some 600,000 Israeli settlers reside in occupied Palestinian territory in violation of international law. The international community has repeatedly called their presence and rising population the main impediment to potential peace in the region.
The UN
reported in August
that after a three-year decline of settler attacks on Palestinians, the first half of 2017 showed a major increase in such attacks, with 89 incidents being documented so far this year, representing an 88 percent increase compared to 2016. The attacks during this time period have led to the deaths of three Palestinians.
Palestinian activists and rights groups have long accused Israel of fostering a
"culture of impunity"
for Israeli settlers and soldiers committing violent acts against Palestinians.
Israeli authorities served indictments in only 8.2 percent of cases of Israeli settlers committing anti-Palestinian crimes in the occupied West Bank in the past three years, according to Israeli NGO Yesh Din.
Source: Website